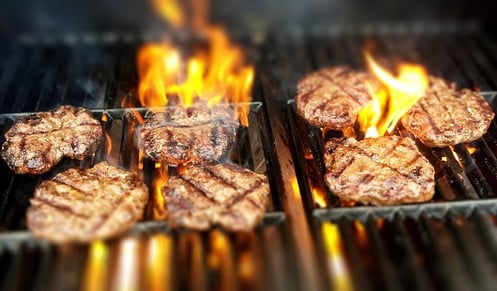 There's something deeply satisfying about cooking over an open flame. It's one of the most foundational ways humans have prepared food over the years, and mastering this primal technique is highly rewarding (not to mention delicious!).
However, while fire is one of the greatest tools for bringing people together, it's also one of nature's most destructive forces. Give fire the healthy respect it deserves with these vital grilling safety tips.
Never start a gas grill with the lid closed
Turn on the propane only when the lid of the grill is open. A closed lid could result in a build-up of hot gas, and when you do open it, a fireball could hit you before you even know what's happened.
Flammable gas is not something you want to treat carelessly. Be sure to check regularly for leaks, and if you smell leaking gas while the flame is ignited, get to safety and call 911!
Never leave your grill unattended
Don't go inside to finish prepping once the burgers or steaks are on the grates. Once your back is turned, you have no way of knowing whether a pet or child is playing too close to the grill or pipeline, or if an especially juicy burger has just caused a flare-up. In situations like these, you need to react instantly. Keep the grill within sight and within a moment's access at all times.
Never place the grill within 10 feet of your home or other structures
When you're grilling meat, there's always a chance of a flare-up, for both gas and charcoal grills. Keeping your grill well away from anything that's flammable will ensure you just end up with charred burgers and not a charred home!
Wood fences, vinyl siding, and even items like patio umbrellas and overhanging tree branches don't stand much of a chance against intense flames and can ignite quickly. You can end up with an out-of-control house fire within mere minutes.
A little common sense goes a long way
Most people never experience an issue with their grills. Good safety habits and common sense go a long way in keeping you and your loved ones safe, so you can enjoy your cookouts without fear.
Planning a new project? A professional designer can help you figure out the safest place for your barbecue island or outdoor kitchen setup. If you're in the San Jose area and need a new grill or a better backyard entertainment layout, we can provide you with a free consultation. Use the banner below to get in touch with us!