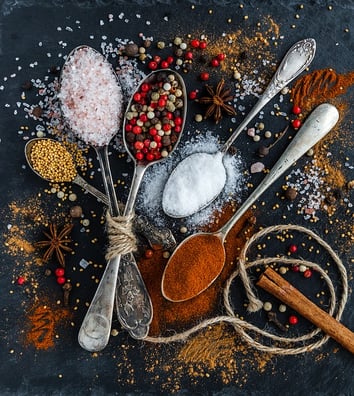 Once you've gotten your own backyard barbecue smoker, you'll want to put it to the best use possible. And when your family and friends get a taste of the fresh and tender ribs, brisket, and pulled pork you can now make at home, your BBQ skills are sure to be in high demand!
You probably already have your favorite barbecue sauce to slather over your finished product. But you can also enhance the flavor with a custom dry rub.
In this post we've curated a list of dry rubs to cut your teeth on:
Basic BBQ Rub
If you want something simple to start with, a basic rub for a pork shoulder or Boston butt will likely include the following ingredients:
brown sugar (a good amount, since the sweetness is important)
paprika
chili powder
garlic powder
onion powder
salt & pepper
dry mustard
cayenne pepper (for extra heat)
The rub can be applied to the meat about an hour before cooking.
Here's an easy barbecue rub recipe from AllRecipes.com to get you started.
Wet Mustard Rubs
A mustard rub isn't technically "dry" in one sense, since liquid mustard is used to keep the spices adhering to the meat. However, once the process is done, you won't need any additional sauce.
Mustard rubs can be applied to either ribs or pulled pork barbecue.
Key ingredients are often very similar to the basic barbecue rub above, but some add extras such as rosemary or lemon peel.
Check out this citrus-mustard rub from the Spruce, or the Carolina-inspired rub from the Barbecue! Bible.
Memphis-Style Dry Ribs
Here's where a good dry rub really shines. As their name implies, these dry ribs require no barbecue sauce because the caramelized spices form a flavorful crust that needs no other enhancement.
Key ingredients include:
paprika
brown sugar
granulated garlic
chili powder
onion powder
cayenne pepper
cumin
black and white peppers
salt
Here's a basic Memphis rib recipe provided by Bobby Flay of the Food Network.
Want more of a challenge? This Memphis-style Rib recipe from SeriousEats.com has you start cooking the raw meat unseasoned and then applying a "mop" of vinegar and a savory rub at regular intervals. It's more labor-intensive than the others, but the results are great!
Get smoking!
Of course, we've only scratched the surface of the many, many regional variations of rubs (and trust us, people in different parts of the country take these recipes very seriously). If you enjoy the results of these rubs, be sure to branch out and try other recipes based on what you like best, or even improvise your own!
In the market for a new smoker or grill? Check out the quality models we offer by clicking the banner below!