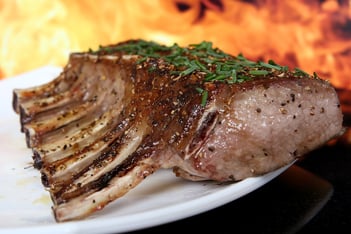 This is a tricky topic. There are many different types of meat and cuts and so many different spice blends to test out. We're going to limit this article to the basic meat groups: poultry, fish, beef, pork, and lamb
These are going to be our favorite blends for these different meats, but be sure to take this advice with a grain of salt (literally).
There is much more out there than simply salting and peppering your meat. Experiment with new flavors, and use spices you might not have ever heard of. Here are our favorite blends for seasoning meat.
Poultry
Nothing seems to improve the flavors of chicken more than garlic. It's a versatile spice that can be used as a powder or kept in cloves and baked alongside.
Before cooking your chicken, give yourself plenty of time to season it and let it sit for a couple of hours. This allows the meat to really develop deeper flavors from the spices soaking in. If you don't have time, simply heavily spice the meat before you cook.

The best blend of seasonings for chicken is a mix of garlic powder (or minced garlic), salt, pepper, paprika, and thyme. Add a dash of ground coriander and ground cumin for a more robust flavor profile. Turkey may use the same spices as chicken, but sometimes it's best to stick to more aromatic herbs and salt and pepper. Think rosemary, sage, and thyme; These are fragrant spices that will help boost the flavor of turkey meat.
For other poultry like quail, pheasant, goose, duck, and other game birds, try to capitalize on the unique flavors that they each have to offer. Fattier meats like goose will benefit from more acidic flavors from citrus or onions. For unique flavors for duck, try blending cloves, star anise, fennel seeds, and cinnamon.
Seafood
When it comes to fish, they can taste really strong. There is a reason why you call it "fishy". So what can you season it with to compliment the meat rather than cover it up?
Some popular spices include basil, bay leaves, dill, lemongrass, and parsley. Note that it's important when you spice your seafood. With other meat, you want to let it sit in the spice blend, but with seafood, you shouldn't let it sit for too long or the salt could dry out the meat. Another important tip when it comes to seafood is you should always add an acid like lemon to the final dish for a boost in flavor.
Beef
Beef is truly a staple of American cuisine. So what can you do to bring out its flavor? There are several spice mixes you could use. Some of the tastiest cuts of beef, like A5 Wagyu, need only salt and pepper to enhance the fatty taste. A good hack for cooking a flavorful steak is to baste the meat with rosemary-infused butter after the initial cooking process.
When it comes to ground beef, a really delicious staple in Mediterranean cuisines is to add finely chopped onions and parsley to the mix for a fresh and juicy flavor. Add the seasoned beef mix to pasta dishes for an extra fancy meal.

Read >> How to Create Marinades for Grilled Steaks
Pork
While some of these meats may be more complex in flavor, pork is a very mild meat on its own, similar to chicken. It needs a good mix of spices to bring out its goodness. Next time you cook pork chops, make a rub consisting of: smoked paprika, garlic and onion powder, cumin, dried thyme, oregano, chili powder (if you want a kick), and some brown sugar to add a sweetness to the mix.
Lamb
This is not your typical meat. The flavor profile is unique and robust. A good rack of lamb can benefit from spice blends including but not limited to salt, pepper, coriander, garlic powder, mustard powder, and even nutmeg! Some herbs that you can top the finished plate with can include chopped oregano, mint, or sage.

Lamb is definitely one of the more exotic meats to cook with, but don't let that scare you away from making a delicious meal. Splurge on lamb shoulder or a rack of lamb and have an extraordinary night surprising guests with your meat-cooking knowledge and skills!
Let's design your outdoor kitchen together!
We're here to help you design an outdoor kitchen that you and your guests will love for a long time. Call us at (650) 279-6506 or contact us online. We'll conduct a free consultation to get started. Let's get it started!