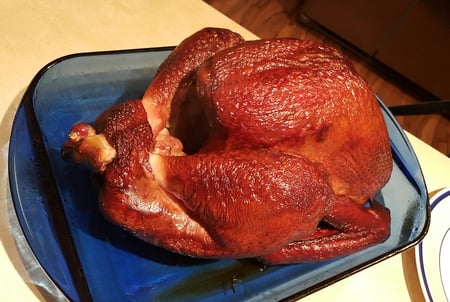 Not a fan of standing around in the crowded, stuffy kitchen on Thanksgiving Day? Let your outdoor kitchen come to your rescue.
Here are several elements of a traditional turkey dinner that you can prepare in your outdoor kitchen. You'll get an excuse to be outside and create more flavorful renditions of Thanksgiving fare.
The Turkey
Let's start with the main course. You can prepare a whole turkey using your grill or smoker, just as long as it fits. (Of course, you'll want to make sure it's completely thawed ahead of time.)
To grill your turkey, you'll want to oil your grate and sear the top of the breast first. Then transfer the turkey to an aluminum roasting pan, add water and seasoning, cover with foil, and grill with the cover down for 3 to 4 hours. (See the full grilled turkey instructions here.)
Or, if you've got a smaller grill and/or a limited amount of time, you can cut the bird up first and grill the legs, breast, wings, etc. separately.
Smoking your turkey produces tender, flavorful meat with a deep smoky flavor. Be aware that it also will take a good deal of time—at about 30 minutes a pound, you could be looking at 9 hours or so of cooking time! For this reason, smoking is ideal for smaller birds (or cooks who are early risers.) Read these detailed instructions on how to smoke a whole turkey.
Side dishes
Whether or not you are cooking the turkey outdoors, you can add some more interesting side dish options to the table using your grill. (After all, most any vegetable tastes better when cooked over fire). Here are a few ideas to get you started:
And if you have a good quality cast-iron pan, you can even cook stuffing over the grill!
Dessert
Don't tell Grandma, but you can cook Thanksgiving desserts on the grill as well! Here are a few options:
If you're dreaming of a better grill or smoker for the next holiday meal (or you'd like to give some not-so-subtle hints), the experts at Unlimited Outdoor Kitchen can help you find the right model for your lifestyle and budget. Browse our grill lines and get your holiday wish list updated!