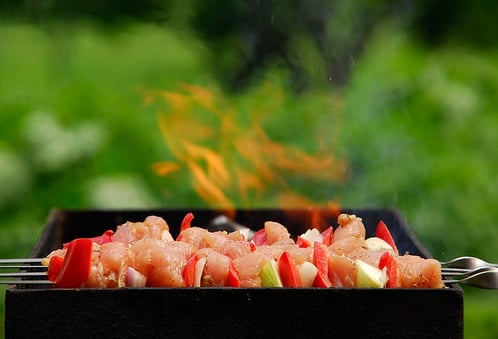 Taking your dinner prep into the great outdoors and cooking out on the grill is just more fun than being stuck in a summer kitchen indoors all sumer!
Sometimes it's easy to fall into that same old hamburgers-and-hot-dogs routine. Your grill is capable of far more than that!
Whether you're gearing up for a special Memorial Day cookout or just want fresh ideas for a weeknight dinner, here are a few ideas for how to shake things up:
Try Out a New Take on Tradition
Surprise guests by incorporating cheese inside of the meat instead of just on top. You can buy pre-made burgers or brats with cheese already tucked inside, or you can make your own burger patty and fold a handful of shredded cheese into the center.
You can stick with crowd-pleasing options options like cheddar, mozzarella or pepper jack, or go gourmet with bleu cheese or brie.
Beyond Hot Dogs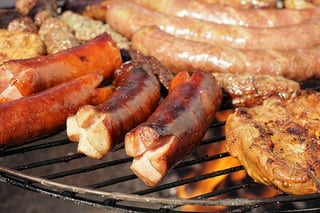 Why stick with a run-of-the-mill frank when you can find plenty of other options out there? Your local grocery store probably offers a wide variety of bratwurst, kielbasa, andouille, and other flavorful sausage options that will taste great on the grill, buns optional.
You may even be able to find lower-fat chicken or turkey varieties with unexpected flavors such as apple, jalapeno, or roasted garlic.
Make Room for Mushrooms
Did you know portabella mushrooms can be grilled like burgers? They offer a firm texture and a savory umami flavor. You can find oversize portabella caps in the produce section specifically for grilling. Marinate them in balsamic vinegar or soy sauce for a few minutes before applying to an oiled grill grate. Top the patties with other mild flavors such as avocados or Swiss cheese, or spice them up with onions, salsa, or hot sauce.
Kebabs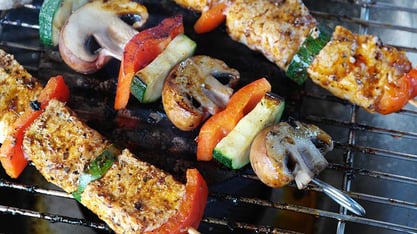 This style of skewered grilling goes all the way back to the ancient Middle East and Greece, with variations across the globe. Kebabs can serve as a high-protein main dish or as a colorful side, depending on the ingredients you choose. Mix and match any of the following foods for endless possibilities:
Marinated chicken, lamb, pork, turkey, or beef
Shrimp, scallops, or other seafood
Bacon
Cherry tomatoes
Peppers of all kinds
Red or white onions
Mushrooms
Olives
Citrus slices
Sweet fruit such as pineapple, peaches, or mango
Cheese such as feta or mozzarella
Potato slices (or even tater tots!)
Finish Up With Dessert
You don't have to stick with just savory items on the grill. You can grill fruit such as bananas, peaches, strawberries, and even watermelon to be enjoyed on their own or with a scoop of vanilla ice cream. But it doesn't have to stop with produce: you can bake pastries in a foil pie tin, or even experiment with tossing on doughnuts, pound cake or angel food cake for a quick toasting!
Now get grilling!
We hope these ideas give you some inspiration for getting more out of your barbecue island or outdoor kitchen. And if your grill itself is in need of an upgrade, we've got a great line of quality gas and charcoal grills to choose from. Be sure to check them out!