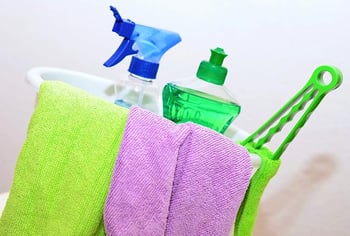 When you have an outdoor kitchen, you don't want to clean with harsh chemicals. Think about it, after one spray of a chemical-based cleaner or after one rain shower, those chemicals will quickly find their way into our air, soil, and water. Instead, take the green cleaning route; you'll be able to disinfect just as well without potential harm to your family and our environment.
Keep Your Outdoor Kitchen Clean Without Chemicals
We're going to walk you through how to make your own all-purpose, sink/stovetop, granite, and grill cleaners, but before you can start making your own cleaning products you have to have all the right ingredients and materials. So, next time you're at the grocery store, be sure to pick up these:
Green Cleaning Ingredients
White vinegar
Baking soda
Dish soap
Essential oils (tea tree oil, lavender oil, eucalyptus oil, or lemongrass oil)
91% Isopropyl alcohol
Water
Cleaning Materials
Spray bottle
Bowl
Sponge
Scrub brush
Aluminum foil
Funnel
Let's Start Cleaning!
All-Purpose Cleaner
Spray bottle
1 tsp. baking soda
1/2 tsp. dish soap
2 tsps. vinegar
Warm water
Essential oils (optional)
Use your funnel to put your baking soda, dish soap, and vinegar in your spray bottle, then shake or stir to combine. Let the mixture sit for about a minute, then fill the remainder of the bottle with warm water. Once the mixutre has had a moment to settle, you can add a few drops of the essential oil of your choosing if you'd like. This can be used on nearly any surface, so just spray it on and then wipe it off with a paper towel or clean cloth.


Sink or Stovetop Cleaner
Bowl
1/3 c. baking soda
Warm water
Sponge or scrub brush
Put your baking soda in your bowl and mix in small amounts of your warm water at a time until you've created a thick paste. Using your sponge or scrub brush, work in the paste over your sink or stovetop to achieve a sparkling clean kitchen.


Granite Cleaner
Spray bottle
Funnel
Water
91% Isopropyl alcohol
Use your funnel to pour your water and isopropyl alcohol into your spray bottle at a 1:1 ratio (so one part water for every 1 part isopropyl alcohol. Spray the solution onto your granite countertop and allow it to sit for 3-5 minutes, then rinse with water and dry with a clean cloth.
Note: Always avoid using bleach or ammonia-based cleaners on granite. This could damage your sealant and, therefore, the granite itself.


Grill Cleaner
Spray bottle
Funnel
Aluminum foil
White vinegar
Using a funnel, pour your white vinegar into a clean spray bottle, and spray onto your grill's cooking grates. Allow the vinegar to sit on the grates for 3-5 minutes so the acid can break down the grease and grime. Crumple up your aluminum foil into a loose ball, then rub the grill grates to remove any old food buildup.
If you have an idea for an outdoor kitchen construction project and live in the California Bay Area, we can help you out! We build custom outdoor kitchens, barbecue islands, living rooms, and more, and can work with any home and budget. Give us a call at (888) 747-4554 or contact us online to let us know what you're looking for, or, if you're ready to get started right away, click the banner below to request your free estimate!