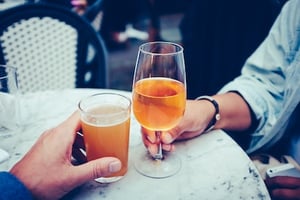 If you have an outdoor kitchen, you're probably looking for just about any excuse to host a party or even just have a few friends over for a casual dinner in your outdoor living space.
Fall is an especially nice time to enjoy your outdoor kitchen. It's the perfect not-to-hot-not-too cold time of the year when you can enjoy the fresh air, the colors on the trees, and perhaps even a cocktail or two.
Here are some drink recipes you'll definitely want to try this season.
This twist on the Long Island tastes especially delicious on a warmer-than-usual fall day.
Mixers
1 oz triple sec
1 oz light rum
1 oz gin
1 oz apple vodka
4 oz apple cider
2 oz lemon-lime soda
Making it
Combine triple sec, white rum, gin, vodka, and apple cider into a cocktail shaker and shake for 20-30 seconds. Divide the mixture between into two ice-filled glasses, and finish each drink with 1 ounce of lemon lime soda. Use the apple slices to garnish, and serve!
Because it just wouldn't be autumn without pumpkins, you've got to make this drink at some point this fall.
Mixers
1.25 oz Maker's Mark Bourbon
Hot apple cider
Dash of allspice
Tall cinnamon stick
Lemon slice
Making it
Pour bourbon into a mug, and fill the rest of the mug with hot apple cider. Add a dash of allspice, and garnish with a cinnamon stick and lemon slice.
We already expect to see apple and pumpkin everything when fall arrives, but nothing is better than when these two seasonal ingredients are combined into one delicious cocktail!
Mixers
8 oz bourbon
9 oz apple cider
2 1/2 oz lemon juice
12 oz pumpkin ale
ice
cinnamon sticks and cranberries for garnish
Making it
Mix bourbon, apple cider and lemon juice in a shaker, and strain into four ice-filled glasses. Add the beer evenly among the glasses, and complete the cocktail with cinnamon sticks and cranberries as garnish.


If your friends prefer to drink their beer without the extras, you can still have just as much fall fun with a pumpkin keg. Try it out!

Looking for something that will warm you up from the inside out? A Honey Bourbon Toddy is just the thing!
Mixers
2 tbsp honey

1 cup hot water

6 tbsp bourbon or Apple Bourbon (see below for recipe)

2 strips lemon peel (3 inches long, 1/2 inch wide)

2 cinnamon sticks
Making it
Combine honey and water in a two-cup measuring cup and stir until honey dissolves. Add bourbon to the mixture and pour into two Toddy glasses. (If you're using apple bourbon, just add one tablespoon of honey instead of two). Take the lemon peel and twist it over each glass before garnishing. Add a cinnamon stick as a stirrer and serve!
Before you go looking in the grocery store for Apple Bourbon, here's how to make your own:
Pour a 750-ml bottle of bourbon into a pitcher
Add 4 Fuji apples (cored and sliced)
Add 4 cinnamon sticks
Cover the pitcher and let it sit in the refrigerator for 3 days
Strain the mixture and use
Mixing things up
Does your backyard need an upgrade? An outdoor kitchen is a great way to do it! Give us a call or click on the banner below to start looking at your options!