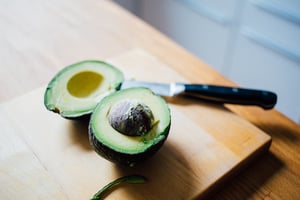 Some foods immediately make us think of grilling out — steak, hamburgers, wings. Other foods seem hard to imagine with grill marks or an added smoky flavor.
It's easy to get stuck in a rut with food and how we prepare it, which is why we wanted to share an article about very common foods that taste uncommonly delicious on the grill.
The ironic thing is that these foods almost never get grilled. It's as if they're every grill master's best kept secret. But that secret is about to be out because we're confident that once you start grilling these four foods, you won't want to stop.
Romaine Hearts
If you've only ever had romaine in a caesar salad or on a cold sandwich, then you've been missing out. Romaine hearts are surprisingly delicious on the grill. Instead of causing the leaves to wilt, the heat from the grill actually chars the edges, making them more firm and better for holding up to salad dressings of all different consistencies.
Next time you're grilling out and you want to add some char to that romaine, try this Grilled Romain Lettuce Salad with Blue Cheese and Bacon recipe. You may never go back to traditional salads.
Avocado
Why would you grill an avocado? Because who wouldn't want some guacamole with a subtle smoky flavor? You can also add a smoky avocado to a burger or a salad to intensify or complement the flavors.
You'd think an avocado would fall apart on the grill, but it doesn't, thanks to its tough rind. You can easily grill an avocado by cutting it in half, removing the core, and placing both halves of the avocado on the grill, green side down. This will give you some lovely grill marks and plenty of smoky flavor.
Grapefruit
Yes, you read that right... Grapefruit on the grill! We recommend grilling grapefruit for one very specific reason: This Smoky Greyhound Cocktail recipe is truly delicious. Not only does a grilled grapefruit make a standout beverage, but it also solidifies you as a standout drink mixer!
Grapefruit isn't the only fruit you can toss on the grill. If you haven't already, you should also try grilling peaches, apples, watermelons and even melons.
Pound Cake
What's better than pound cake? Grilled pound cake, of course! Whether you're trying to disguise the fact that the cake is on the verge of stale, or you're just trying to add a smoky flavor, the grill is a great idea.
If you enjoy grilled pound cake, you should also try grilling doughnuts or French toast. Breakfast will never be the same!
Grilling calls for a grill.
Ready to grill some foods you never realized were grill-able until now? Well, what are you waiting for?
Oh, you need a new grill? We can help with that. Click on the banner below to shop online, or give us a call at (888) 747-4554, and we'll be happy to help you decide on the grill that's right for you.