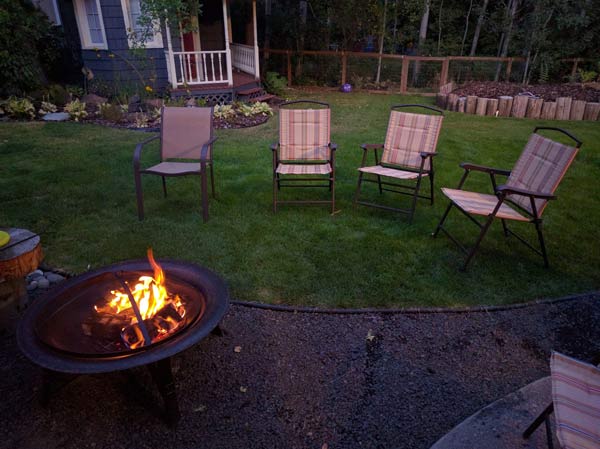 An outdoor fireplace is great if you have only a few guests who fit comfortably in a semi-circle around the hearth, but fire pits offer a 360° experience that's perfect for larger groups. Fire pits are lower and more open meaning it's easier for you, your family, and your friends to gather around the fire and still be able to see everyone, chat, and laugh.
If you've considered a fire feature before but decided against a fire pit, writing it off as little more than a hole in the ground that might ruin your backyard aesthetic, we think we can convince you of their greatness.
There is a wide variety of fire pits on the market today and nearly all of them can be customized to your exact taste. Check out 5 different types of fire pits below and discover their many benefits!
1.) Wood Fire Pits
Usually made from concrete or steel, wood burning fire pits are just like traditional campfires, except they're more safely contained and in your backyard rather than in the woods.
Benefits of a Wood Fire Pit:
Simple to install and use: Not only is a fire pit easy to install as it is little more than a hole lined with concrete, stone, or steel, but they're easy to use, too! Once you get your fire started, all you need to do to keep it going is to add another log!
Inexpensive: Fire pits are one of the most affordable backyard upgrades; they don't take long to build, they don't require many materials, and once the structure is built you only need fire wood and a lighter to enjoy your investment.
Warm & cozy: Real wood fires are warmer than gas fires, have more "active" flames, and add that great crackling sound to your evening ambiance.
2.) Gas Fire Pits
Gas fire pits are safer than wood burning fire pits because the gas burner allows for a controlled flame. They're also more customizable as they can be dressed with lava rock, fire glass, or even ceramic logs!
Benefits of a Gas Fire Pit:
User friendly: Installation is a little more involved since you'll need a gas pipeline to fuel the fire, but once the pipeline is installed, gas fires are easier to start and maintain than wood-burning fires.
Adjustable: The flames of a gas fire pit are completely controllable and adjustable making them safer than traditional wood burning fire pits.
Efficient: Burning gas is more efficient, less smokey, and cheaper than burning fire wood.
3.) Fire and Water Features
The dancing flames of a fire are positively captivating, the sound of trickling water is delightfully therapeutic, and now you can experience both fire and water in one beautiful backyard display.
Benefits of a Fire & Water Feature:
An elegant centerpiece: Since these two elements don't normally coexist in harmony, combination fire and water features act as a dazzling focal point in any backyard
Ambiance: These unique pieces make for a warm, cozy, and relaxing backyard environment. It won't be long before the feature becomes the go-to comfort zone for you, your friends, and family!
Personalization: Whether you want your fire and water feature to be the main attraction in your backyard or just a small detail that sits on your patio, these lovely structures can be custom built to your exact desires and specifications
4.) Gas Fire Tables
Fire tables offer warmth, beauty, and a place to eat, drink, and chat in one contemporary display.
Benefits of a Gas Fire Table:
Modern: If classic fire pits or outdoor fireplaces are a little too old school for your taste, a fire table is the fire feature for you! Rather showcasing the flames as the main attraction, the entire piece is designed to look great and grab attention whether the fire is going or not!
Multipurpose: Fire tables look great, provide warmth, and offer a convenient place for you to set your food and drinks.
Versatility: Fire tables can be built or bought in nearly any size or shape and to fit any outdoor lifestyle.
5.) Table Top Fire Pits
Gel fueled table top fire pits are small and portable meaning you can use them any time and in any setting—even indoors!
Benefits of a Table Top Fire Pit:
Unique fuel: Gel fuel is clean burning, smokeless, odorless, and cheap. What more could you ask for?!
Portability: While table top fire pits work great on outdoor patios, the gel fuel and small size make them great for indoor use as well. Use one as a centerpiece at your next dinner party instead of candles and we guarantee your guests will think it's to die for!
Noncommittal: If you like the idea of a fire table but aren't quite sure that one is right for you, this is the perfect the solution. A table top fireplace can be there when you want it or put away when you don't!
If you're in the market for a custom outdoor fireplace, fire pit, or fire table we can help make your dreams a reality with our expert design, building, and installation services. Give us a call at (888) 747-4554 or click the banner below to request a free estimate!
If you enjoyed this article, please check out other posts on our blog and join us on Facebook, Twitter, LinkedIn, Google+, and Pinterest to see how Unlimited Outdoor Kitchen can help you build your outdoor lifestyle.