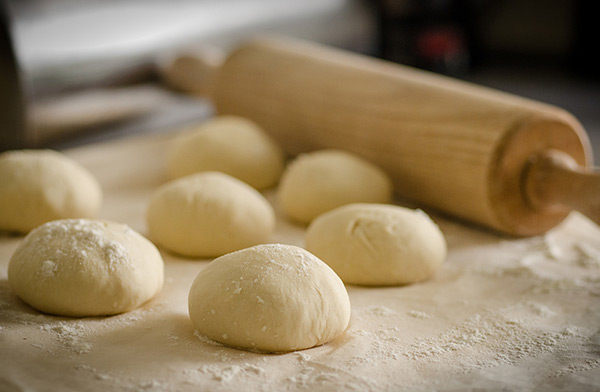 Pizza is easily one of the most beloved foods of all time, which is highly understandable. Not only is it always a crowd pleaser, but it's affordable, ready fairly quickly, and can even be brought right to your door when you don'f feel like going out! And while all those other factors are great, our personal favorite thing about pizza is how versatile it is: you can have something as simple as a plain cheese pizza, or toppings as extravagant as caviar and lobster (we're serious).
To help you understand why that's our favorite thing about pizza, here are 4 wildly different pizza recipes that can be enjoyed starting at breakfast, all the way through your post-dinner dessert... a day-long pizza marathon! But first, you've got to have the perfect crust, and that means a lot of dough...
A Tried-and-True Pizza Dough Recipe
The first stop on our pizza journey is the crust. Without the blank slate of freshly prepared dough, you simply don't have a pizza. With that being said, let's jump in:
2 1/2 to 3 cups all-purpose flour
1 tablespoon sugar
1 teaspoon salt
1 package regular or quick active dry yeast
3 tablespoons olive or vegetable oil
1 cup very warm water (120° to 130°)
Mix 1 cup of the flour, the sugar, salt and yeast in large bowl. Add 3 tablespoons oil and the warm water.
Beat with electric mixer on medium speed 3 minutes, scraping bowl frequently. Stir in enough remaining flour until dough is soft and leaves sides of bowl.
Place dough on lightly floured surface. Knead 5 to 8 minutes or until dough is smooth and springy.
Cover loosely with plastic wrap and let rest 30 minutes.
REMEMBER: That recipe is enough to make one pizza. To make every pizza in the list, you'll have to quadrupal the amount of ingredients!
Okay, now that you've got your dough, let's talk about how you can transform it into delicious pizzas for any time of day!
---
For Breakfast: Omelette Pizza
Nothing is more iconically breakfast than bacon and eggs, so we can't think of better toppings for a breakfast pizza. Try starting your day with this delicious pie:
1/2 cup coarsely chopped bacon
6 eggs, beaten
4 oz (half of 8-oz package) cream cheese, cut into small pieces
2 cups shredded Monterey Jack cheese with jalapeño peppers (8 oz)
1/2 cup sliced red bell pepper
1/4 cup thinly sliced red onion
Fresh chopped cilantro, if desired
Salsa, if desired
Heat oven to 400°F for dark or nonstick pan (425°F for all other pans). Spray 14-inch round pizza pan with cooking spray.
Meanwhile, in 10-inch skillet, cook bacon 4 to 6 minutes over medium-high heat or until just crispy, stirring frequently. Remove bacon; drain drippings, leaving 1 teaspoon in skillet.
In same skillet, add eggs; cook 2 to 3 minutes, stirring frequently, until firm but still moist.
Spoon and spread eggs over crust. Drop cream cheese over eggs. Top with Monterey Jack cheese, bell pepper, onion and bacon. Bake 9 to 13 minutes longer or until crust is golden brown and cheese is melted. To serve, cut into 6 wedges. Sprinkle with cilantro, and serve with salsa.
---
For Lunch: White Pizza with Broccoli
Lunch should be heavy enough to carry you through dinner, but not so heavy that you're tempted to fall asleep during the second half of your work day. With that being said, pizza doesn't get much lighter and simpler than this:
Extra- virgin olive oil, for drizzling
2 cups whole or part skim ricotta
2 cloves garlic, finely chopped
Handful flat-leaf parsley, finely chopped
2 cups shredded mozzarella or provolone, 1 pouch
10 fresh basil leaves, 1/2 cup, shredded
Preheat a pizza stone if you use one along with the oven to 425 degrees F.
Stretch dough to form a pie and transfer to stone or pizza baking tray. Pierce the dough with the tines of a fork in several places.
Drizzle extra-virgin olive oil around the crust.
Mix the ricotta cheese with garlic and parsley and season it with salt and black pepper. Spread the ricotta across the dough.
Top the pizza with mozzarella or provolone.
Bake until crispy, 20 minutes.
Top the white pizza pie with the shredded basil leaves, cut and serve.
---
Supreme Dinner Pizza
Okay, now it's time for the good stuff. A supreme pizza is a great dinner option because you can cover all almost all of your bases; you'll have your meats, veggies, dairy, and grains. "How?" you ask? Simple:
1 lb bulk mild Italian pork sausage
1 large onion, chopped (1 cup)
1 can (8 oz) pizza sauce
1 medium green bell pepper, chopped (1 cup)
1 can (2 1/4 oz) sliced ripe olives, drained
1 package (3.5 oz) sliced pepperoni
2 cups shredded mozzarella cheese (8 oz)
Cook sausage and onion over medium heat 8 to 10 minutes, stirring occasionally, until sausage is no longer pink and onion is tender; drain.
Top your pizza, then bake 15 to 20 minutes or until cheese is melted and sauce is bubbly.
---
Fresh Berry Dessert Pizza
Did you save room for dessert? Great! After filling up on a hearty, meat topped pizza you probably don't want anything too crazy. Try this light, fresh option:
2 cups red wine
1/3 cup confectioners' sugar plus additional for dusting, if desired
2 pints fresh blackberries
1/2 cup ricotta cheese
1/2 orange, zested
Kosher salt
Preheat the grill (or, alternatively, the oven to 350 degrees F)
In a large skillet, reduce the red wine by half over medium heat and whisk in the confectioners' sugar. When the mixture thickens slightly, gently stir in the blackberries and simmer, 2 to 3 minutes. Set aside.
Put the ricotta in a separate bowl. Grate a little orange zest (about 1 teaspoon) over the ricotta, add a pinch of salt and stir to blend.
Spread an even layer of the ricotta on the pizzas and place on the grill to warm them. Alternatively, bake for 3 to 5 minutes in oven. Warm the blackberry mixture. Note: if the blackberry liquid is thin, strain the blackberries out and reserve them. Reduce the liquid until thick and mix it back in with the blackberries. Top the pizzas with the fruit and serve immediately. Dust with additional powdered sugar, if desired.
Do you know what makes making pizza even more fun? Making it in your own custom pizza oven! When you work with Unlimited Outdoor Kitchen, you'll get a pizza oven that is shaped, sized, and finished to complement your home and fit your budget. Give us a call at (888) 747-4554 or contact us online today! Ready for dinner right now? Request your free estimate and get the ball rolling!