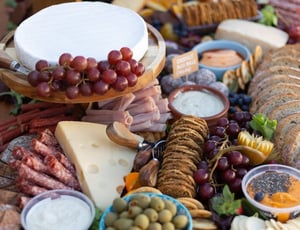 The holiday season means Christmas parties in abundance. Charcuterie boards are a favorite for hosts and guests alike at just about any social event throughout the year, but at Christmastime, the expectation for food is so much higher.
Don't let that intimidate you, though. It's possible to knock the holiday charcuterie board out of the park. We have everything you need to know right here.
Meat: The charcuterie showstopper
Meat is an essential piece of every charcuterie board. After all, Charcuterie is a French word that means "pork's butcher shop." So... without meat, is it even a charcuterie board?
While most charcuterie boards feature cured meats, there's no law against tossing some meats from the grill on the board, too. Who doesn't enjoy a smoky bacon-wrapped sausage? Or bacon-wrapped anything for that matter! Just make sure that if you're putting grilled meats on your charcuterie board, you have a separate dish to put them in. You don't want your cheese and crackers soaking up the delicious juices from freshly grilled meat.
Cheese: The food we flock to
Cheese is arguably the most important item on a charcuterie board. In fact, we'd venture to say it's so important that the only true mistake you could make when it comes to cheese would be to not include it on your board at all.
The main guideline when choosing cheeses for your charcuterie board is to offer a variety. It's best to have at least one of each of the following: a soft cheese, a firm cheese, an aged cheese, and a blue cheese.
Picky about your flavors? Here's a quick guide to some common charcuterie board cheeses:
Brie. A soft cheese with an extremely mild flavor. Best with jam or honey drizzled over it.
Goat cheese. A crumbly cheese with a tart, earthy flavor. Also delicious with jam and honey.
Gorgonzola. A blue cheese with a tangy flavor that's typical for blue cheeses.
Cheddar. An aged cheese that's ideal for guests who prefer sticking with what they know.
Gruyère. A firm cheese with a sweet but slightly salty flavor.
Toss some almonds and pecans on the board with your cheeses for some added crunch!
Breads and Spreads: Mix and match
Charcuterie boards are all about pairings.
Jam and baguettes
Hummus and pita
Crackers and mustard
Pretzels and chocolate
While the pairings listed above go nicely together, they can also be mixed and matched with other items on the list. Just remember, charcuterie boards are all about variety. Give your guests that, and you can't go wrong.
Fruits and Veggies: Fresh and colorful
Include fruits and vegetables on your charcuterie board because, sadly but truly, it may be the only produce your guests eat this holiday season.
Besides the nutritional value of fruits and vegetables, the other benefit is that they bring a lot of color to your holiday spread.
Think of the color variety in a collection of grapes, olives, blackberries, cranberries, and dried apricots — and that's just the fruit! There are even more colors to bring to your board with carrots, cucumbers, and red and yellow peppers.
Remember the grilled meats!
If you're planning to add some grilled meats to your charcuterie board, and your current grill just isn't going to cut it, we can help! Unlimited Outdoor Kitchen has a variety of high-end gas grills that will look great in your outdoor kitchen this holiday.