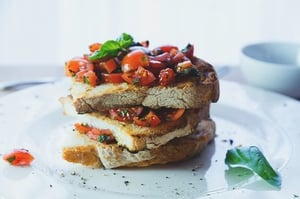 Whether you're wanting to give guests something to snack on before the main course, or you're looking for some interesting appetizers that can stand out on their own during your at-home happy hour, these grill- and pizza oven-friendly hors d'oeuvres are perfect for any occasion.
So, preheat your grill or stoke those flames, because we guarantee you'll be hungry and ready to give a few of these sweet, savory, and totally unique recipes a try by the time you finish this article
Baked Bruchetta
1 garlic head, whole
3 teaspoons olive oil
salt and pepper to taste
1 medium tomato, diced
¼ cup fresh basil, chiffonaded
4 ounces cream cheese, softened
½ cup parmesan cheese, divided
12 slices baguette, 1/2-inch thick
Preheat oven to 350°F. Cut the top 1/3 off of the garlic head—just exposing the cloves—then place on a sheet of aluminum foil, and drizzle with olive oil, salt and pepper. Wrap the foil tightly around the head of garlic, and bake for 1 hour or until tender. Let cool.
Meanwhile, in a medium mixing bowl, combine tomato, basil, 2 teaspoons olive oil, salt and pepper to taste, then set aside. Once the garlic has cooled to the point it can be easily handled, squeeze the cloves out of the skins and mix the roasted garlic, cream cheese, and 1/4 cup Parmesan cheese in another small bowl.
Arrange sliced baguette pieces on a baking sheet, then spread garlic cream cheese mixture over one side of each slice, and top with a sprinkle of parmesan. Bake in your pizza oven for 12 minutes or until golden brown, and top with tomato mixture and remaining cheese before serving.
View the original recipe here.
Foil Packet Cheesy Potatoes
It doesn't get much easier than this! All you need is:
450g Little Potatoes (about 14 potatoes), thinly sliced
1/2 teaspoon salt
pinch of pepper
2 slices bacon, cooked until crispy and crumbled
1 cup cheddar cheese
2 green onions, sliced
Microwave your potatoes on high for 3-4 minutes until fork-tender. While the potatoes are in the microwave, p
reheat your grill to medium.
Once the potatoes have cooled to the touch, thinly slice the potatoes and lay them in a single layer on a sheet of aluminum foil sprayed with non-stick cooking spray. Salt and pepper to taste, then top with 1/3 of the cheese and 1/3 of the bacon. Repeat the layering process two more times until all the potatoes, cheese, and bacon are in the foil packet (like a potato lasagna).
Fold and pinch the foil packet closed, using a second sheet of foil to cover the top if needed. Place directly on heat, close the grill lid, and cook for 10-20 minutes until potatoes are tender all the way through and the cheese has melted. Open foil and sprinkle with green onions. Serve immediately.
View the original recipe here.
Grilled Bacon-Wrapped Jalapeño Poppers
Spicy. Creamy. Savory. This appetizer has all the elements of a real crowd-pleaser! All you need is:
8 jalapeño peppers
8 oz cream cheese softened
1 green onion minced
3/4 tsp garlic powder
1/2 c. sharp cheddar cheese shredded
16 bacon slices
Cut each jalapeño in half lengthwise. For milder poppers, use a spoon to scrape out the seeds and membranes before stuffing; for spicier poppers, leave the seeds and membranes in tact. In a small mixing bowl, combine cream cheese, green onion, garlic powder, and cheddar, then stuff into the jalapeño halves.
Once the peppers have been stuffed with the cream cheese mixture, wrap each popper in a slice of bacon, secure with a toothpick, and refrigerate for an hour.
Place jalapeños on the grill and cook for 6 minutes on medium-high or until bacon is crisp on one side, then flip. Reduce heat to medium-low, then continue to heat through until bacon has cooked all the way through and the cheese has melted.
View the original recipe here.
Baked Tortilla Pizzas
If you want pizza without ruining your appetite before the main course, this thin, crispy, low-carb version is exactly what you're looking for. All you need is:
1 10 inch tortilla
1/4 cup pizza sauce
1 cup mozzarella cheese, shredded
1 tablespoon parmesan cheese, grated
8 slices pepperoni
Just like crafting a normal pizza, spread your sauce over the tortilla, then top with cheese and pepperoni. Slide your creation into your pizza oven and bake until the tortilla has crisped up and the cheese has melted, or for about 2-4 minutes.
Don't have a pizza oven? Heat up a cast iron pan on your grill, then build your pizza in the pan according to the same instructions listed above. Leave on the grill until the tortilla has crisped up and the cheese has melted, then slide onto a plate to cut and serve.
View the original recipe here.
Grilled Pineapple with Coconut Rum Sauce
Have a bit of a sweet tooth? This delicious treat can work as both an appetizer and a dessert. All you need is:
1 large pineapple
1/2 cup coconut milk
1 tablespoon cream of coconut
2 tablespoons coconut rum
1 and 1/2 teaspoons cornstarch
1 tablespoon butter
Cut the pineapple into chunks and slide onto skewers kebab-style, then grill for 4 minutes on each side. As those, combine the coconut milk, cream-of-coconut, and coconut rum in a saucepan. Gradually stir in the corn starch and heat on medium-low until the sauce has thickened. Finally, stir in the butter until completely combined, then dip the pineapples in the sauce and enjoy!


View the original recipe here.

Of course these recipes can work on any grill or in any pizza oven, but we think they'd taste just a little bit better if they were prepared in a custom outdoor kitchen. If you'd like to take your outdoor cooking experience to the next level, click the banner below to check out our outdoor kitchen design guide. If you still have a few questions give us a call at (888) 747-4554 or contact us online. We'd love to help you!

Unlimited Outdoor Kitchen offers professional outdoor kitchen, outdoor fireplace, and outdoor living room design, building, and installation services in the following cities in the California Bay Area: San Jose, Los Gatos, Saratoga, San Francisco, Gilroy, Morgan Hill, Menlo Park, Palo Alto, Fremont, Hayward, Oakland, Los Altos Hills, Cupertino, and now in Piedmont.