Edible bouquets are a lovely way to show your love on Valentine's Day. After all, who wouldn't want a bouquet that tastes even better than it looks?
Like any bouquet, edible bouquets come with a price tag. Vendors put a lot of work into edible arrangements, and they charge a pretty penny for their time and creativity. If you're looking for a frugal way to pull off an edible arrangement this Valentine's Day, the best solution is to do it yourself.
We've found four edible bouquets that even the most novice creator can assemble. So, if you have a Valentine who craves fruit or candy, bacon or pickles, we have the perfect bouquet for you!
Fruit Bouquet
Watch this how-to video from Jerrelle Guy on Tastemade to learn how to make and arrange a fruit bouquet with kale, pineapple, grapes, chocolate-dipped strawberries and more.
Bacon Bouquet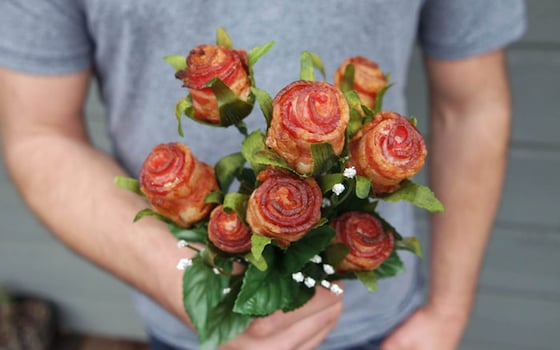 How are bacon bouquets just now catching on? They're genius — surprisingly beautiful and oh-so delicious! Read the blog to learn how to make a bouquet of bacon strips that is sure to make your sweetheart's mouth water!
Pickle Bouquet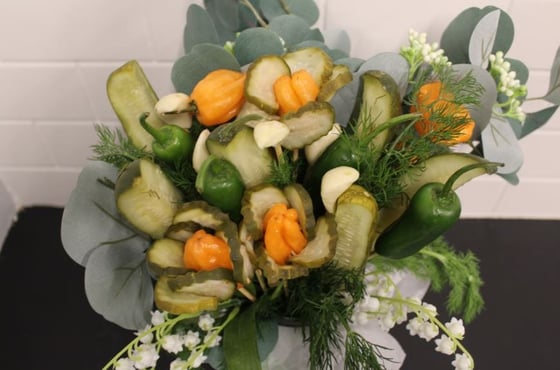 Perfect for the pickle-loving Valentine, pickle bouquets speak volumes about how well you know your significant other. Check out the blog for instructions on arranging your own pickle bouquet.
Candy Bouquet
The great thing about candy bouquets is that there's a lot of room for personalization. Does your Valentine like a little bit of everything? Include a variety of candies in your arrangement. Are they loyal to Hershey's chocolate bars? Make an entire bouquet of Hershey's.
Candy bouquets can be made however big or small you want them to be. Watch this video about making a DIY candy bouquet, and have fun creating!