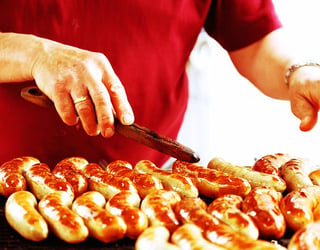 Still not sure what to get your dad for Father's Day? If he's the kind of man who loves spending time outside crafting the perfect hamburger or grilling a steak to perfection, consider one of these gift ideas for grillmasters:
Wireless meat thermometer
It seems like everything runs on wireless these days, so why not your kitchen tools, too? A wireless digital thermometer allows you to get precise readings on the temperature of your meat, without having to open the grill and let the heat out. Some versions even send push notifications to your phone when it's reached the right temperature.
Oiler Brush
It's perfectly acceptable to oil your hot grill grates with a paper towel and a set of tongs—this is the easiest method—but an oiler brush can up the cool factor. These tools dispense oil evenly to the grates and often feature heat-safe silicone for more precise application.
Electric charcoal igniter
Let Dad start the grill up without lighter fluid with this device that shoots a column of super-heated air right at the coals to get them going. Another type of electric igniter features a wire heating element that you bury in the coals for about 10 minutes, but the result is the same: a reliable charcoal fire without the lighter fluid residue.
Upgraded serving board
When it comes to entertaining, presentation of your food matters. Help Dad host like a pro with serving ware that make the main course look as good as it smells. Try a decorative wooden platter to go underneath a practical aluminum or ceramic dish to dress things up. Or cook the meat directly on a Himalaya rock salt board, which adds a salty flavor to your dish and looks great for serving afterward.
Grill cleaning robot
We already know the importance of keeping your grill grate clean, but wouldn't it be nice if the grill could just clean itself? New grill-cleaning bots are the next best thing—or better, if your dad is a tech lover. Think of it as a Roomba for your grill. As an added bonus, it's fun to watch!
Need more inspiration?
If you're looking for more ideas, check out our Father's Day gift guide from 2016. And if you're thinking about making this Father's Day one he'll never forget, check out our line of quality charcoal and gas grills!