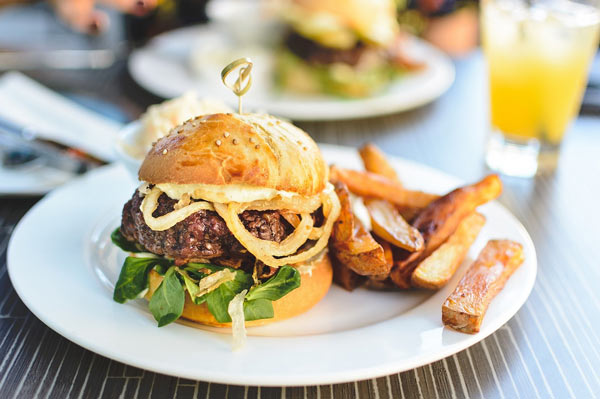 There are a few skills you need to master in life — things like how to do laundry, how to balance a checkbook, and how to make and grill the perfect burger!
While we hope you already know to separate your brights and your whites, maybe you haven't quite perfected your hamburger technique yet. To help you hone your skill to perfection, here are our tips for making and grilling a perfect hamburger:
Preparation
Start with 80/20 twice ground chuck. This ratio of beef-to-fat is perfect for juicy, flavorful burgers.
Form the ground beef into 6oz. patties, being careful to not overwork the meat; too much handling will over-compact the meat which will mean a tough finished product.
Gently press your thumb into the middle of each patty to create a "dimple" that will keep your burgers from expanding and turning into meatballs along the way.
Finally, season each of the patties with salt and pepper before throwing them over the open flame.
Grilling
Regardless of whether you're grilling over an open flame or cooking your burgers indoors in a pan, use high heat. High heat is how you ;get a delicious, crispy crust to form over the outermost edge of the hamburger (and you already know how important texture is).
Resist the urge to press down the patties while they're cooking. While we know this is an oddly satisfying habit, but when you do this you're just squeezing all of the flavorful juices out of the burgers.
While it may seem shocking to some seasoned pros, we suggest you flip your burgers every 15 seconds for faster, more even cooking than the traditional one-flip method.
Once your burgers reach an internal temperature of 125°, take them off the heat, put them on a plate, and cover them with tin foil so they can rest, come up to their final temperature, and the juices can redistribute through the meat.
One final tip: never serve your burgers on untoasted buns. If prepared properly, your burgers will be delightfully juicy, and those juices can turn an untoasted bun into a sad, soggy mess. On the other hand, toasted buns have a crispy outer layer that can withstand the juices and keep its integrity to the last bite!
If you were thinking about having a custom outdoor kitchen, pergola, or other project built this Summer, now's your chance because we're offering a $5,000 Unlimited Outdoor Kitchen gift card to one lucky person who signs a contract with us between now and Labor Day (Monday, September 5, 2016). Just click the banner below to read the rules and to enter!
If you enjoyed this article, please check out other posts on our blog and join us on Facebook, Twitter, LinkedIn, Google+, and Pinterest to see how Unlimited Outdoor Kitchen can help you build your outdoor lifestyle.