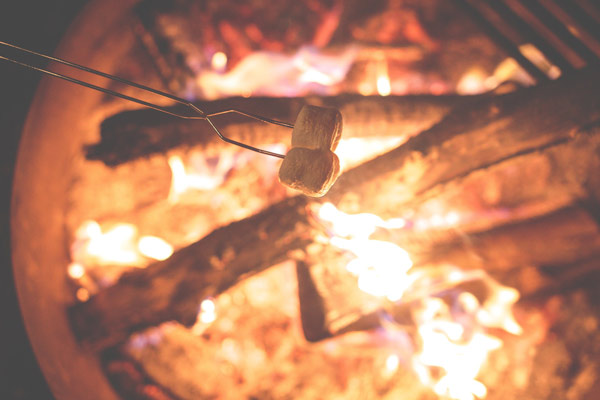 We're sure you've had more than your fill of bonfires where you roast hot dogs and marshmallows over the fire. But once you have your custom outdoor kitchen, you can kick things up a notch and plan the hottest backyard bonfire of the season. We've planned an entire menu that will have your family and guests wondering why they ever limited themselves so much, and that will have them brainstorming for even better bonfire ideas. So without further ado, here are our ideas for a gourmet bonfire:
Classier Alternatives to Classic Bonfire Foods
Kick things off with fondue. That's right, break out your cast iron dutch oven and start the night off with cheese fondue with bread and fresh veggies for dipping. Your guests probably haven't experienced fondue at any other bonfire they've been to and will be blown away with this unique treat (and to think, it's just the appetizer)!
Opt for sausage over hot dogs. Sausage is just as easy to roast on a skewer over the fire as a hot dog, but it is far more flavorful and gives your guests a wider selection to choose from: Italian sausage, sweet sausage, choriso, bratwurst, etc.
Potatoes. Cut up potatoes, peppers, and onions, wrap them in tin foil with butter, salt, and pepper, and drop the tin foil packet right in the fire. Cook until the the mixture is soft when poked with a skewer and voila — this delicious mix of veggies will be the perfect complement to your sausage!
Do more with your s'mores. Okay, so making s'mores is more about the experience than anything, and we'd hate to take that away from you so we won't. Instead of proposing you make some sort of fancy dessert, we think you should just put a gourmet twist on your s'mores by adding fresh fruit (strawberries, bananas, coconut, etc.), swapping out your graham crackers for other sweet treats (oreos, waffles, cookies, rice crispies, etc.), trade out the marshmallow for ice cream, or top them with an exotic drizzle (salted caramel, nutella, peanut butter, etc.).
A fire pit or outdoor fireplace may just be the single best addition you'll ever make to your backyard. You will extend the evenings and stretch the season by creating a warm place to relax and entertain outdoors. If you already have your bag of marshmallows ready for roasting, click the banner below to request your free estimate! Or, if you still have a few questions give us a call at (888) 747-4554 or contact us online, we'd love to help you!
If you enjoyed this article, please check out other posts on our blog and join us on Facebook, Twitter, LinkedIn, Google+, and Pinterest to see how Unlimited Outdoor Kitchen can help you build your outdoor lifestyle.