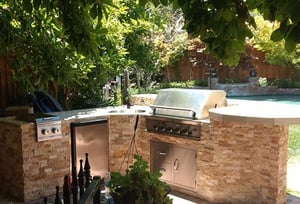 The weather outside is warming up nicely. Warm weather and blue skies means more outdoor time for you and your family and friends.
But you know who else is enjoying the outdoors and warm weather? The bugs. All of them. And if you grill up a steak on a warm day and serve it to others, you're bound to run into some pests looking for a free meal. So how can you keep all these bugs away?
We've got a couple of solutions for you on how to keep your backyard bug-free. All of these are cruelty and pesticide-free too!
Plant some pest-repelling plants
Lavender, Rosemary, Lemongrass, and Garlic. These plants are known for having strong, pleasant aromas. Not only can these plants benefit your space by creating nice-smelling backyards, but they are well-known to ward off pests like mosquitos and gnats as well! Look into growing these around your backyard to boost plant diversity while keeping the bugs away.
Eliminate chances of stagnant water
Got a pond or water feature in your backyard to show off? Make sure that the water is constantly running or changed out every few days. Stagnant water can form when the water has been still for 24 hours or more. Bugs thrive well in stagnant water. If you aren't using a water fountain, simply turn it off and empty the basins of any remaining water.
Objects like bird baths and rainwater barrels can hold water for other uses, so make sure to check those often. Change out bird bath water every couple of days and make sure your rainwater barrel has a mesh cover to keep bugs out of it.
Add fans to blow bugs away
Bugs don't stand a chance against fans. They can blow them away rather easily. Be sure to look into installing a ceiling fan in your outdoor kitchen or seating space. You can even prop up some oscillating fans to keeps bugs away in multiple directions. As long as you use them while you're using the backyard, they should be blown away.
Read >> Should I Install a Ceiling Fan in My Outdoor Kitchen?
Properly store your ingredients and dishes
Cooking outside is an art. Making sure you have all the right ingredients in the correct amounts is important for making the perfect lunch or dinner. But those ingredients should not sit outside for long enough to give bugs a whiff of what you're cooking. Make sure any leftover ingredients get sealed up and stored away properly to avoid inviting unwanted pests.
Cover your trash bins
Similar to the previous tip, this prevents any bugs from getting attracted to your leftovers and discarded scraps. This applies to your recycling bins too, as they could contain items like aluminum cans or milk jugs, which may have old residue on them that the bugs would love to eat. Seal them up, put them inside, or hide them in a cabinet!
Let's design your outdoor kitchen together!
We're here to help you design an outdoor kitchen that you and your budget will love. Give us a call at (650) 279-6506 or contact us online. We'll visit your home and conduct a free consultation to get started. We're ready when you are!