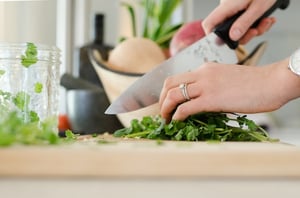 When you're buying a gift for mom, an easy go-to gift is something that she can use in the kitchen, especially if she has a beautiful outdoor kitchen. While a mom who cooks will probably get a lot of use out of a kitchen gadget, another cooking tool may not be the thing to make her feel loved and appreciated on Mother's Day.
To keep you from making the kind of of mistake that too many sons, daughters and husbands make every May, Unlimited Outdoor Kitchen is here to tell you what gifts to avoid buying mom.
Grill Brush
Gifting someone with a grill brush is like telling them to go do their chores. "Happy Mothers Day, Mom! Now go clean the grill." Not a good plan. In fact, avoid gifting cleaning supplies of any kind. Mom deserves better — like maybe you could clean the grill for her!
Instead try...
A new grill! If it's in your budget, this is the kind of gift that she can actually enjoy.
Cooking Utensils
Boring! Just because it's something mom will use doesn't mean it's a great gift idea. Besides, cooking utensils aren't that expensive; if she needs them, she'll probably just buy her own.
Instead try...
A charcuterie board or another type of serving dish that makes a statement would be much more fun to open.
Charcoal
Do we even need to explain why giving mom coal would be a bad idea? If we do, then let's just say there are probably much larger problems at play than deciding on a Mother's Day gift.
Instead try...
Candles are a great gift idea for both indoor and outdoor kitchens! They come in all sizes, fragrances and colors, so put some thought into which one will suit your mom's outdoor kitchen best.
If your mom is all about practicality, she may appreciate a citronella candle to keep the bugs away from her outdoor living space.
Linens
Unless you crocheted them yourself, or they represent some other form of sentimentality, dish towels and washcloths are necessities, not thoughtful gifts.
Instead try...
A statement rug or well-designed tablecloth makes for a lovely gift as long as you're familiar enough with your mom's style to match it.
Thinking about an outdoor kitchen of your own?
Mom's outdoor kitchen is nice, but you can't just hang out at her place every day. Why not build a kitchen of your own? Or let us do it, rather. Contact Unlimited Outdoor Kitchen today to explore the possibilities for your dream backyard.