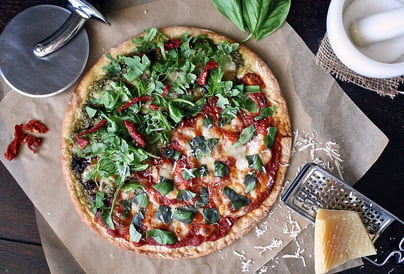 If you're looking to eat healthier this summer but still want to make use of your outdoor pizza oven, fear not—you can still enjoy hot, satisfying pizzas with a whole lot less fat, salt, carbs, and calories.
The good news is healthy doesn't mean bland. In fact, some of the most flavorful pizzas you'll ever create can be good for you, thanks to lean and healthy ingredients that also offer bold flavor profiles.
Here are a few ways to lighten up your backyard oven pizzas without sacrificing taste:
Swap out your crust
If you're looking to cut back on carbohydrates, opt for a thinner pizza crust. Thin crusts have the added bonus of getting nice and crispy in the pizza oven.
Want to avoid refined grains? You can switch out your dough recipe for one of these alternatives:
If you're not into making your own dough from scratch, you can find healthier versions of commercially prepared crusts, or even use naan bread or tortillas as the base. (Just be sure to watch it carefully to avoid scorching!)
Get a little saucy
Tomatoes have a host of health benefits, but jarred pizza sauces tend to have a lot of hidden sugars. If you use a commercial tomato sauce, look for one with a lower sugar and sodium amount. If you're feeling especially dedicated, you can make your own pizza sauce, or opt for plain tomato paste and mix in your own seasonings.
You can also swap out tomato sauce all together for one of the following:
Extra virgin olive oil: While olive oil is high in fat, it's a healthy fat that's good for your heart. It can be brushed onto the crust before adding tomato sauce or stand on its own as the base.
Balsamic vinegar: A little bit of this packs a real punch!
Hummus or pesto: Great for a Mediterranean or Greek pizza
Salsa or pico de gallo: For a Mexican twist on pizza
Don't forget to add seasoning to your base, such as basil, oregano, minced garlic, pepper, and/or a hint of sea salt.
Make your cheese count
If you're looking to cut back on fat, you'll want to re-think your cheese usage. Notice that we said cut back on fat, not flavor.
One simple way to lighten up your pizza is by swapping out mild cheeses such as mozzarella for varieties that deliver a lot more flavor per bite, such as feta, blue cheese, pepper jack, goat cheese, or sharp cheddar. You'll be able to make a lot less go a lot farther, plus experiment with new taste combinations.
You can also go for mild cheeses that are lower in calories, such as ricotta or freshly grated Parmigiano-Reggiano. Still want that unique stringy quality that mozzarella offers? Choose a lower-fat variety and just don't go crazy.
Up your toppings game
Sorry, greasy pepperoni, you and your heartburn-causing ways are off the list. But don't despair—you may find that many of the healthier toppings actually taste a lot better. In terms of proteins, you can enjoy grilled chicken, marinated steak strips, smoked ham, or a bit of prosciutto.
You can also find healthier versions of sausage and pepperoni made with turkey or chicken, many of which come in bold flavor varieties such as spicy Italian or Cajun andouille.
Combine these with the right veggies and other guilt-free toppings and you'll open up a new world of flavors. Here are a few ideas to get you started:
Traditional supreme: low-fat sausage, ham, mushrooms, olives, onions, grilled bell peppers
Margherita: sliced plum tomatoes, fresh basil leaves, fresh mozzarella slices, extra virgin olive oil, sea salt
Pear and prosciutto: Sliced Anjou pear, thinly sliced prosciutto, gorgonzola or goat cheese, balsamic glaze
Fajita: Chicken seasoned with cumin and paprika, red and yellow bell peppers, red onions, Mexican cheese blend
Mushroom lovers': Chopped shitake, portabellas, white mushrooms (and/or any other variety you fancy), splash of truffle oil
Hawaiian: Chicken or ham, fresh pineapple, red onion, minced garlic, cilantro, low-sugar barbecue sauce
Veggie lovers': Bell peppers, fresh tomato slices and/or sundried tomatoes, basil leaves, olives, spinach
Artichoke-balsamic: sliced artichoke hearts, red peppers, thinly sliced shallots, plenty of balsamic vinegar (this one is great even without cheese)
A note about meat toppings: If it's not already pre-cooked, you'll want to cook your meat ahead of time. A few minutes in the pizza oven, even at a high temperature, is not likely to heat meat to a safe temperature for eating.
Finishing touches
After the pizza comes piping hot out of the oven, you can add a little extra flavor while you wait for it to cool enough to cut. You might try:
Oregano, basil, thyme, and other traditional Italian herbs
Fresh cracked pepper
Freshly grated Parmesan (grating it yourself allows you to avoid the anti-caking chemicals in commercially prepared varieties)
Red pepper flakes
Balsamic glaze – adds tangy sweetness and can make your pizza look gourmet
Pizza ovens in the Bay Area
We hope this list has helped you brainstorm ways to upgrade your backyard pizzas. If you want to take your healthy pizza up a notch with your very own pizza oven, give Unlimited Outdoor Kitchen a call. We'd love to help you find the perfect pizza oven for your outdoor entertainment style!