In our last post, we discussed how to supply power for backyard lighting. This week, we'll look at some of the many lighting styles available to you. This isn't an exhaustive list—just something to get you started down the right path!
Solar outdoor lighting
Solar path lights: Help your guests find their way through your yard when evening falls with this low-to-the-ground lighting option. Solar path lights are simple to install since they require no wiring, and they come in a variety of designs, from utilitarian to whimsical. Just be aware that they'll fade as the night grows late, so they may not be ideal as your only light source.
Deck post lights: Provide a little extra light with fashionable solar deck lights. Several styles are designed to fit like a cap over the top of a deck post, while others affix to the side.
Battery-powered lighting
Light cubes or light spheres: Opt for a futuristic statement piece that doubles as furniture. Large light cubes are weatherproof and contain LED lights that run on batteries (you'll just have to remember to recharge them before your next event). Some light cubes allow you to customize the color by remote control. These are ideal as mood or ambient lighting, and probably won't be bright enough to be your only lighting option.
Low-voltage lighting
Wired path lights: For brighter and more reliable walkway lighting, you'll want to purchase a set of wired pathway lights, readily available at most home improvement stores. These lights often require a small transformer, which is often included in the kit.
Spotlights: Want to bring attention to your beautiful outdoor fireplace or other landscape feature? Make it the star of the show with its own spotlight. Similarly, you can point floodlights at the side of your home to illuminate it after dark.
String lights: Much more substantial than Christmas lights, string lights may be as large as full-size incandescent bulbs. String them along your pergola or a similar structure and power them using an outlet connected to the house (just avoid long or loose extension cords). There are a variety of unique bulb styles to choose from, including energy-saving LEDs.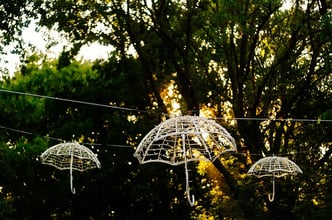 Novelty lighting: Rope lights, Christmas lights, and whimsical string lights shaped like flamingos or Tiki statues—whatever you choose may not provide much light to see by, but they'll make up for it with lots of character.
High-voltage lighting
Outdoor wall lights: Chances are you already have a porch light by your back door. You can easily upgrade this to a nicer style, perhaps in wrought iron or one with a unique light bulb. Check your local home improvement store to scope out your many options. Though these can be considered high-voltage lighting, the electrical work is already done, so they won't require too much extra work to install.
Lampposts: Add extra light to your large yard, as well as a large dose of classiness, with a lamppost or two. They'll provide more light than mere pathway lights.
Overhead lighting: Want to outfit your outdoor kitchen or outdoor living room with hanging pendant lights, can lights, or a chandelier? You'll probably need to hire an electrician to install them properly and supply the necessary weatherproof wiring.
For All Your Outdoor Kitchen Needs
Looking for tailored advice on what kind of lighting you need? Or are you still in the planning stages of building your outdoor lifestyle? If you're in the San Jose area, give Unlimited Outdoor Kitchen a call at (888) 7-GRILL-IT and we'll be happy to help you figure out your options!