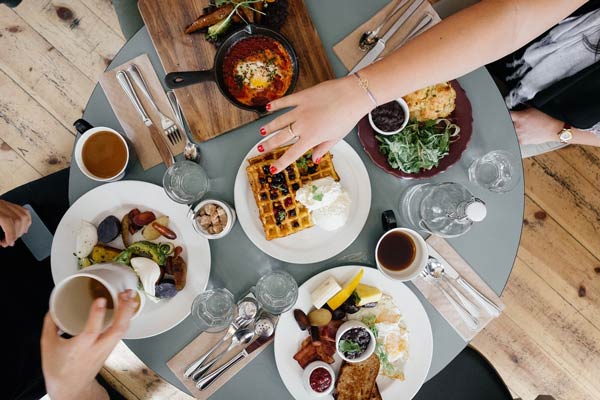 Mother's Day is supposed to be a chance for your mom to relax, so don't put her through the stress of restaurant reservations and crowds on her special day! Instead, ask yourself, "What would Mom do?" and treat her to a home cooked meal! Your mother is one-of-a-kind, so she deserves a brunch that's one-of-a-kind, too! If you're not sure where to start, here are 4 delicious recipes to wow you mom on her special day (just don't forget the flowers and the card)!
Hugs & Quiches
Not only is quiche itself a brunch staple, but this particular recipe also has quite a bit of bacon to go along with the eggs, making it a no-brainer!
All-purpose flour, for rolling
1 homemade or store-bought single-crust pie dough
1 tablespoon unsalted butter
2 cups medium diced yellow onion (from 1 large onion)
Coarse salt and ground pepper
6 large eggs
3/4 cup heavy cream
3/4 pound bacon, cooked and crumbled
1 cup shredded Gruyere cheese (4 ounces)
Preheat oven to 375 degrees.
Lightly flour a rolling pin and work surface and roll out dough to a 12-inch round. Place in a 9-inch pie plate, fold overhang under, and crimp edge.
Place a sheet of parchment paper over dough and fill with pie weights or dried beans.
Bake until edge is dry and light golden, about 20 minutes. Remove parchment and weights.
Meanwhile, in a large skillet, melt butter over medium-high. Add onion, season with salt and pepper, and cook until light golden, 8 to 10 minutes.
In a medium bowl, whisk together eggs and cream. Add onion, bacon, and cheese and season with 1/2 teaspoon salt and 1/4 teaspoon pepper. Whisk to combine, pour into crust, and bake until center of quiche is just set, 40 to 45 minutes. Serve warm or at room temperature.
Recipe from Martha Stewart, serves 8
---
Apple of my Eye French Toast
If your mom loves classic breakfast foods but also has a bit of a sweet tooth, she'll love this Maple Apple French Toast!
6 eggs
1 cup milk
1/2 teaspoon vanilla extract
Ground cinnamon
6 slices bread
2 tablespoons butter, plus more for serving
3 apples, peeled and sliced
2 tablespoons water
1/2 cup maple syrup
Whisk the eggs, milk, vanilla, and a pinch of ground cinnamon in a 9-by-13-inch baking dish. Add the bread in a single layer, turning until all the egg is absorbed.
Meanwhile, heat a large skillet over medium heat, melt 1 tablespoon butter, and add apples, stirring to coat until starting to caramelize. Add the water, cooking until water has evaporated and apples are tender, about 4 minutes.
Pour in the maple syrup and a dash of ground cinnamon; simmer for a minute to combine.
In a large, heated nonstick skillet, melt about 1 tablespoon butter and saute the soaked bread until golden brown on each side, about 4 minutes. Place French toast on a plate and top with apple-maple mixture, plus more butter if you'd like!
Recipe from Martha Stewart, serves 4
---
Your Biggest Fan Club Sandwich
If your mom prefers lunch to breakfast, you can't go wrong with a classic club sandwich!
1/3 cup mayonnaise
2 tablespoons Dijon-style mustard
12 slices whole wheat bread, toasted
8 leaf lettuce leaves
8 (3/4-ounce) slices of cheese
1/2 pound thinly sliced deli ham
8 slices tomato
1/2 pound thinly sliced deli turkey breast
8 slices cooked bacon
Combine mayonnaise and mustard in bowl; mix well. Spread about 1 teaspoon mayonnaise mixture on 1 side of each toast slice.
Layer 1 slice toast, mayonnaise-side up, 1 lettuce leaf, 1 slice cheese, 2 ounces ham, 2 slices tomato, 1 slice toast, mayonnaise-side down. Spread 1 teaspoon mayonnaise on toast. Top each sandwich with 1 slice cheese, 2 ounces turkey, 2 slices bacon, 1 lettuce leaf and 1 slice toast, mayonnaise-side down. Cut into triangles. Secure with toothpicks.
Recipe from Land O Lakes, serves 8
---
We Love You Berry Much Cobbler
A meal simply isn't complete without dessert! This skillet blackberry cobbler is the perfect grand finale to your mom's special brinch (especially when you choose to top it with vanilla ice cream)!
8 cups fresh blackberries
1 1/4 cups sugar
Zest and juice of 1/2 lime
1 Tbs. cornstarch
1 1/4 cups all-purpose flour
1 1/4 tsp. baking powder
1/4 tsp.
baking soda
1/8 tsp. fine sea salt
6 Tbs. (3/4 stick) unsalted butter, cut into small cubes and chilled
1/4 cup buttermilk
Preheat an oven to 350°F.
In a large bowl, toss together the blackberries, 1 cup of the sugar, and the lime zest.
In a small bowl, whisk together the lime juice and cornstarch until smooth. Drizzle the lime juice mixture over the blackberry mixture and toss to combine.
Scrape the blackberry mixture into a 10-inch cast-iron skillet and set aside.
In a medium bowl, whisk together the flour, baking powder, baking soda, salt and the remaining 1/4 cup sugar. Use your fingertips to rub the butter into the flour mixture until it is the texture of coarse meal. Make a well in the center of the flour mixture. Pour the buttermilk into the well and stir with a fork until the mixture comes together.
Crumble the dough evenly over the top of the blackberry mixture in the skillet.
Bake the cobbler until the blackberry filling is bubbling and the topping is golden brown, about 40 minutes. Let the cobbler rest for 10 minutes before serving.
Recipe from Williams-Sonoma, serves 8
---
MOMosas
And, of course, no brunch is complete without mimosas! You can go with the classic recipe of equal parts champagne and orange juice, or you can mix things up by using different juices!
Anyone can take their mom out for Mother's Day brunch and have someone else do all the work, but not everyone can bring Mother's Day brunch to life in a beautiful, custom outdoor kitchen. Get a jump on next year's al fresco dining experience and click the banner below to get a FREE estimate, or give us a call at (888) 747-4554 or contact us online!
If you enjoyed this article, please check out other posts on our blog and join us on Facebook, Twitter, LinkedIn, Google+, and Pinterest to see how Unlimited Outdoor Kitchen can help you build your outdoor lifestyle.