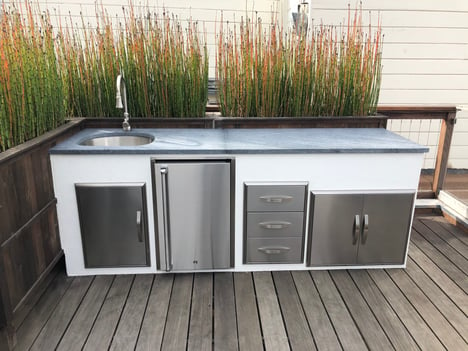 Installing an outdoor sink within your outdoor kitchen space significantly enhances the kitchen's utility. Put differently, adding an outdoor sink makes your outdoor kitchen fully functional and user-friendly.
After all, it's much more convenient to rinse off while grilling, wash up after gardening, or clean your hands after playing with the kids outside.
In essence, incorporating an outdoor sink station augments the capabilities of your outdoor kitchen. To ensure its optimal performance in the long run, it's crucial to adhere to a few plumbing principles that will save you future hassles and complications.
Place Your Outdoor Kitchen Sink Strategically
The location of your outdoor kitchen sink might appear insignificant. However, the truth is that it impacts the project's complexity, the overall aesthetic of the yard, and the cost.
Ideally, you'd like to install the outdoor sink against the house or with ready access to existing plumbing connections. If the sink is distant from the household plumbing system, you will most likely need extra service lines from the main water supply and creative drainage solutions. Ultimately, it will translate into additional costs related to new piping installation.
Design >> 5 Tips for Designing an Outdoor Kitchen on a Budget

Choose The Right Materials for the Outdoor Sink and Faucet
Regarding your outdoor kitchen sink, opting for a 304-grade stainless steel basin is an excellent choice due to its exceptional durability and hygienic attributes. For the faucet, prioritize those featuring a physical vapor deposition (PVD) finish. The best option would be a solid brass faucet with a PVD finish and ceramic disk valves.
It's recommended to avoid solid copper or solid bronze sinks, as these materials tend to develop an aged appearance over time. And avoid faucets that incorporate lightweight or integrated plastic components, as well as rubberized buttons that could deteriorate due to exposure to UV rays.
Select a Drainage Option for Your Outdoor Kitchen Sink
There are three popular drainage options for outdoor kitchen sinks:
Connecting your outdoor kitchen plumbing to your household's wastewater system - This allows a garbage disposal, but it can be costly if pipes are far.
Draining into a French drain or dry well - A common and convenient option, but refrain from disposing of food waste down the drain so as not to stink up your yard.
Draining into a bucket - This lets you reuse gray water for gardening, but requires regular emptying.
Overall, outdoor sinks linked to a home's plumbing system are the most versatile. If home plumbing is distant, French drains or a bucket system can be cheaper for outdoor sink drainage solutions.

Consider Hot Vs. Cold Water in Your Outdoor Kitchen Sink
Although having hot water coming out of your outdoor sink can be pleasant (especially during cold seasons), it is more of a luxury than a necessity. In fact, in most cases, cold water will suffice for an outdoor kitchen.
Remember that hot water in your outdoor kitchen sink means waiting for the water to heat up, which wastes water and increases your water bill. With that in mind, we suggest only installing cold water plumbing for the outdoor sink. If desired, add a small water heater unit in the cabinet below the sink for hot water access.
Prepare Your Outdoor Kitchen Sink for a Potential Freeze
As temperatures begin to decline, it becomes necessary to winterize your outdoor kitchen before the pipes freeze, which could potentially result in burst pipes.
Here's how to properly winterize your outdoor sink:
Shut off all water lines leading to the outdoor kitchen sink
Drain all water by running the faucet until it stops flowing
Utilize an air compressor to ensure the complete removal of any remaining water
Cover the outdoor sink to prevent debris buildup and drain clogs
Turn the water back on in the spring and let it run for a few minutes to flush the pipes before using.
Let's get your plumbing started.
When you're ready to make the most of your backyard with a custom outdoor kitchen, give us a call at (650) 279-6506 or click the banner below to request your free estimate. Still too early in the process to commit? Contact us online to ask anything you'd like, or see what past customers have to say about working with us.
If you enjoyed this article, please check out other posts on our blog and join us on Facebook, LinkedIn, and Pinterest to see how Unlimited Outdoor Kitchen can help you build your outdoor lifestyle.