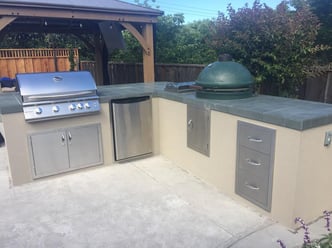 In previous posts, we've covered how to choose the right appliances for your outdoor kitchen and the pros and cons of different countertop surfaces. This week we're going to look at another aspect of outdoor kitchen design: the finish you choose for the other surfaces of your kitchen.
Below is a list of popular finishes for your kitchen's façade and backsplash, with some notes about caring for each:
Stucco
Stucco—a textured application of cement plaster—is a durable, heat-resistant finish that won't mold, making it ideal for outdoor kitchens. It's attractive (and a bit understated), lasts for decades, and is relatively low-cost. If your home already has a stucco façade, applying the same to your outdoor kitchen can create a pleasing, seamless transition from indoor to outdoor living areas.
Stucco does not require a lot of maintenance—just an occasional soak with the hose and possibly a scrubbing with a soft nylon brush to remove stains.
Tile
Occasionally an outdoor kitchen will be finished with a porcelain, ceramic, or stone tile—more often for a backsplash or accent piece, but occasionally for the entire façade. Tile can be a beautiful and unique finish, though some tiles are susceptible to chipping or cracking, depending on the material used.
Grout can be a bit difficult to keep clean, especially in an outdoor environment. You'll want to seal the grout regularly to prevent molding, and avoid acid-based cleaners, which can dissolve it.
Stacked Stone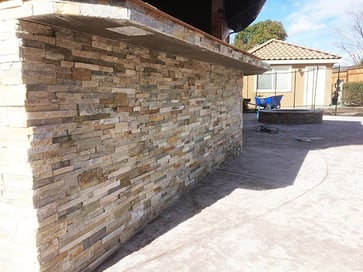 A popular option for outdoor kitchen façades is stacked stone, which comes in a variety of natural shades and can communicate a rustic vibe, a luxurious feel, or both simultaneously.
We often work with slate, flagstone, and travertine limestone, each of which has unique properties and care requirements. In general, stone is very durable, though it may require sealing to protect it over time. It may require a bit of elbow grease to remove the debris that gathers between individual stones.
Be careful with bleach or acid-based cleaners (such as those containing vinegar or lemon juice), which can damage stone surfaces.
Some customers opt for a faux stone façade, which is lighter and easier to clean, though it may lack some of the charm that natural stone has.
Granite
Typically, granite is used for countertops, but occasionally it's used as a backsplash or as a statement piece. It's beautiful, with a high gloss and a wide range of colors and patterns. It can also be quite durable, even outdoors. Learn more about caring for granite.
Large quantities of granite can be cost-prohibitive for most outdoor kitchen projects, and it may require regular sealing to prevent staining.
Beauty is more than skin deep
No matter which finish you choose, make sure your outdoor kitchen is built to withstand the elements, from the surface level all the way to its "bones." At Unlimited Outdoor Kitchen, we build our kitchens with welded steel—not plywood—for fire safety and earthquake resistance, and we use mold-resistant PermaBase cement board to make sure you can enjoy your outdoor kitchen for years to come.