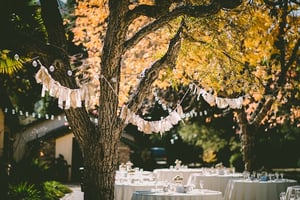 Your daughter is getting married, and there's only one place she wants to say her vows...
At home.
In your backyard.
You've been told the occasion is going to be intimate in your outdoor living space but you also know the expectation is that this wedding is done with all of the elegance and class (and expense) of a traditional wedding at a traditional venue.
So... How do you do this?
Before you say "I do" to hosting the wedding...
Get the okay from your vendors.
Just because your outdoor living space is large enough for a crowd, that doesn't necessarily mean that it will work for vendors. Ask the caterers, the band, and any other major vendors to survey the property and tell you if it's a realistic venue for their services. Vendors should explain where they need to set up their equipment in order for things to run smoothly at the wedding. Knowing what vendors need as well as where they can and cannot be will help you plan everything else around these nonnegotiables.
Find out if your neighborhood has a noise ordinance.
If you're planning to dance late into the night in your backyard, you may need to acquire a permit to do so. Many neighborhoods have strict noise ordinances, so don't count on the goodwill of your neighbors to save you from getting a visit (and a ticket) from the police.
Once you get your permit to party, you'll need to meet with your band or DJ to ensure that there's a strong enough power source for the music. We also recommend having a backup generator just in case.
Keep in mind, though, that you're not the only house on the block that might be making noise. Do your due diligence to inform your neighbors about the wedding well in advance. The last thing you want is someone running their leaf blower during the vows.
Evaluate the parking situation.
It's a very bad idea to just assume that your wedding guests will find places to park. Have a plan, and get the permits you need to park legally. If there's a nearby church or school, get permission for your guests to park there. If it's a little further from your house than guests may want to walk, you can hire a golf cart company to drive guests to and from their vehicles. Sure, it's an added expense, but it's better than having an officer to crash the wedding and write you a ticket for parking cars illegally.
If you decide to host the wedding...
Start thinking about landscaping now.
Trees don't grow overnight, and neither do lush flowers and a well manicured lawn. Our advice? Start working on your landscaping now. You've probably been thinking about tackling some backyard projects for awhile. Hosting a wedding in your outdoor living space provides a great incentive to make it a reality.
The more you work on your lawn and florals now, the less you'll have to buy from a florist later. After all, what is a wedding without florals?
Consider hiring a wedding coordinator.
Your backyard may be beautiful, but it's not a wedding venue, which means it's not equipped with all of the things that make wedding venues work.
While you can probably trust yourself to think of most things — renting tables, chairs, and linens and having a plan B for rain — there are bound to be things that never cross your mind.
For example, do you really want 100 wedding guests going into your house and using your bathroom over the course of 6 hours? Probably not. You also may not have known that a traditional portable toilet is not the only option. You should really be looking into luxe portable bathrooms or portable trailers. A wedding coordinator can give you tips like that as well as others.
Not only will a wedding coordinator help you think through the upcoming details, they will also manage any problems that may pop up on the big day. Simply put, a wedding coordinator is worth the investment.
Invest in a dance floor.
If your cement or concrete backyard patio isn't large enough to serve as a dance floor, then you'll absolutely need to rent a dance floor. The lawn you put so much time into leading up to this wedding will quickly be destroyed under the happy feet of your guests. Not to mention, your guests will have a very difficult time dancing on such soft terrain.
Hire a setup and teardown crew.
It's easy to underestimate the amount of work that goes into setting up for a wedding — until you're in the middle of it. There's no doubt you'll have more than enough other things to do on the day of the wedding without also setting up for the ceremony and reception.
As far as teardown goes, we probably don't need to tell you how tired you'll be at the end of the day. Take our word for it that you won't regret hiring a team to clean up after the wedding festivities.
Let us know how we can help.
If there are any upgrades you want to make to your outdoor living space before the big day, let us know. We can build you a custom pergola, a fire table, or whatever you need to set the tone for a perfect day.