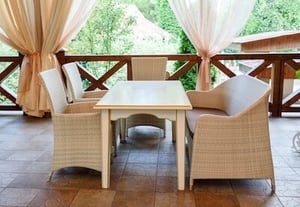 Pergolas are a great source of shade when you need protection from the sun overhead.
But what about in the morning or late afternoon hours when the sun isn't directly over your head? Sometimes it's slightly to the east or the west, and it's shining right into your outdoor kitchen while you're trying to grill out.
Pergolas are no help at this point, but curtains are. You can attach curtains or blinds to your outdoor kitchen pergola, and turn your outdoor living space into an open air dining and living room that's protected from the sun.
The great thing about blinds is that they can easily be used for privacy or protection from the sun, but they're less permanent than a wall or fence. Blinds can easily be pulled up, and curtains can be tied back.
Speaking of curtains and blinds, though, what style is best for an outdoor kitchen like yours? Like many stylistic aspects of an outdoor kitchen, there's not just one right answer when it comes to curtains — there are several. Let's discuss your options in greater detail so you can decide what you want for your outdoor kitchen.
Fabric for your curtains
Blackout curtains or sheer? Deep, rich colors or light and bright? Print or solid? Even if you've narrowed down your options for shade to the the curtain category, you still have to make a decision about the fabric. Sheer and solid fabrics both have their unique advantages. Sheer may offer the aesthetic you want, but does it provide the shade you need? An opaque fabric may have the sturdiness you desire, but if it cuts off airflow, it defeats the whole purpose of being outside.
Choosing the fabric for your curtains requires that you consider functionality as well as style.
Pairing blinds with curtains
What if you need shade in your outdoor kitchen, but you just cannot let go of the vision you had for sheer curtains of white blowing in the breeze? Who says you can't get both! Consider pairing a set of bamboo blinds with sheer curtains. The combo is as practical as it is beautiful. You get the shade you need while achieving the look you want.
Bamboo blinds aren't the only type that pair well with a fabric. You can find a perfect pairing with virtually any material type — you may just need a designer to tell you which materials complement one another and which clash.
Horizontal versus vertical
If you don't have a strong opinion on horizontal shades versus vertical, then consider which option would be best for your particular space. Take note of the below facts regarding horizontal and vertical blinds and curtains so that you can draw your own conclusions.
Vertical blinds are...
Ideal for wide spaces because they put less tension of the above anchor when opening and closing.
Usually more versatile because they open and close from two sides, which is ideal when you're trying to block direct rays from the sun.
Sometimes loud if they're made out of a free-hanging material other than fabric. Think plastic panels or beaded strands.
Horizontal blinds...
Accumulate more dust.
Typically last longer, but they're also more expensive.
Are great for pets that want to enjoy the view while you keep the blinds mostly closed.
Using both...
Like we suggested for the fabric dilemma, a pairing of vertical with horizontal might just solve all of your directional dilemmas. Vertical curtains used with horizontal blinds (or vice versa) ensure that you can position them exactly how you need to for keeping the sun off of you.
Get a professional opinion from our outdoor kitchen designers
Don't feel like you have to make all of the decisions on your own. Our outdoor kitchen designers can can give you their professional opinion about what would look good and function best in your outdoor living space. Contact us today!