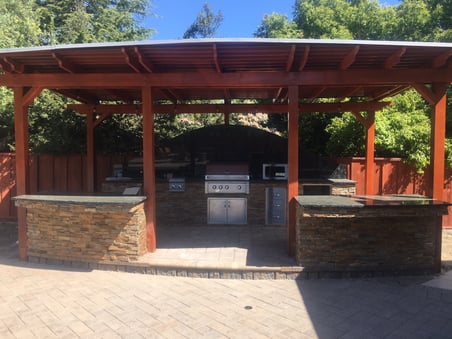 A backyard pergola can be a great addition to your backyard, beautifying your landscape and creating a small oasis for relaxing that's protected from the sun and rain.
If you're still brainstorming about the kind of pergola that will be perfect for your yard, one of the decisions you'll have to make early on is the material it will be constructed out of.
The most common building materials for pergolas are wood, metal (such as steel or aluminum), or an artificial substance such as vinyl or fiberglass.
If you're still undecided on which route to take, consider the following aspects of each:
Aesthetics
When it comes to looks, it's hard to beat the natural beauty of wood. A wooden pergola can be stained to show off the grain patterns of the wood itself, or painted in any color to match your home. The supports and beams can be rather thick, for a stately and eye-catching impression. Wooden pergolas are also easy to customize with decorative cuts or unique angles for a bit of extra flair.
A pergola made of steel or aluminum, on the other hand, can offer a contemporary or urban look. These pergolas often offer a thinner profile, and can have extra features such as sheet metal with die-cut patterns or even lace-like effects. Metal pergolas are often painted black, but they can also be white, green, or any color you choose. Some aluminum pergolas can even have a mock wood design applied.
A pergola built out of vinyl provides a clean look (provided it's pressure washed every few years) but it comes only in white. Sleek fiberglass, on the other hand, can be painted in any color.
Cost
Building a wooden pergola is generally a cost-effective project, since lumber is readily available. Pressure-treated wood such as pine is one of the lowest-cost options, though it does have its issues (see resistance to elements, below). A higher quality wood such as cedar, redwood, or fir will cost more, but these offer a longer-lasting value.
Metal pergolas, especially those from a pre-fabricated kit, offer a comparable cost to wooden pergolas, though some specialty pieces (such as lattice work) can cost a bit more.
Vinyl is often a cost-effective option, as well. Fiberglass, however, is one of the most expensive choices for pergolas.
Resistance to the elements
As you can imagine, each of these materials reacts differently to natural elements such as moisture, heat, insects, and even time.
Wood, being a natural element itself, is most affected by the forces of Mother Nature. Certain types of wood can be more susceptible to rot (especially in very wet climates) and can be targeted by insects such as termites, carpenter ants, or other wood borers. Additionally, some types of wood can warp over time.
That being said, the type of wood you choose matters. For example, pressure-treated wood is often rot-and-insect resistant, though it's most likely to warp. Cedar resists rot and warping, and most insects will not touch it (which makes sense if you think about cedar balls being used to repel moths). Properly sealing and staining the wood makes a big difference in its weather resistance as well.
Metal pergolas are generally more weather-resistant, though steel can rust in wet conditions if not equipped with a rust-proof coating. If your pergola is exposed to intense sunlight, keep in mind that the metal can grow hot to the touch.
Vinyl and fiberglass aren't much affected by weather or insects. Vinyl, however, can be chipped or cracked by impacts (such as hail or by a stone that's been kicked up by your lawnmower) and damaged sections may have to be replaced.
Maintenance
Here's where the differences become make-or-break for some homeowners: the amount of regular maintenance each type of pergola requires.
Wooden pergolas take more work to maintain their natural beauty. They must be stained or repainted every few years to keep the colors vibrant and to prevent water damage. These tasks take time, but they are vital to keeping your wooden pergola looking and working well. The good news is that with proper maintenance, a wooden pergola can last for decades.
Steel pergolas should be checked for rust periodically, and metal pergolas of all types may need a fresh coat of paint after a few years.
Vinyl requires only a bit of pressure washing every couple of years to keep it looking clean. Fiberglass requires very little maintenance.
Customizability
How set are you on having a pergola that's truly custom to your backyard? Metal, vinyl, and fiberglass pergolas are more difficult to customize, since the materials are more difficult to source and often take special tools in order to cut them and weld them together. Typically, pergolas made of metal, vinyl, or fiberglass are only available in kits that are pre-measured and pre-cut. Customization is very difficult.
If you want a truly custom pergola, wood is your best choice. Lumber, even higher-quality varieties, are easier to locate, and cutting it to the proper size doesn't require hard-to-find equipment. It's also easy to carve small details into (such as unique profiles for eaves), and can be aligned to any dimensions you desire.
Interested in having a professional help you design and build the custom pergola of your dreams? One of the designers at Unlimited Outdoor Kitchen would be happy to talk with you about your project. Contact us for a free consultation and estimate.