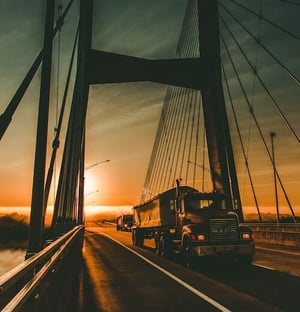 An outdoor kitchen from Unlimited Outdoor Kitchen can find its way to your backyard one of four ways. Any delivery option is a good one, but we want to help you decide which one is best for you. Let's take a look at the delivery options that are available and how they're different in order to point you in the right direction.
Option #1
We build it -- You pick it up.
This delivery option requires the most effort on your part. We'll handle the designing and building phases to provide you with a "skeleton" of your outdoor kitchen. A skeleton includes all of the pieces and parts that your outdoor kitchen requires; your job is to pick them up (or arrange for pickup) and take the skeleton to your home where you can assemble it and add all of the finishing decor to your outdoor paradise.
Option #2
We drop it off -- You put it together.
If you're okay with assembling your outdoor kitchen, but you don't necessarily want to handle shipping and delivery, then this is the perfect option for you. We design, build, and deliver the skeleton of your outdoor kitchen. You have full responsibility for adding the appliances and absolute freedom on how you want to customize your finishing touches.
Option #3
We deliver and build it -- You add the gadgets.
For those who want to leave assembly and final touches to the professionals, this delivery option is ideal. Once our team of professional outdoor kitchen designers and builders delivers your outdoor kitchen, they will also assemble it. The only thing that's left on your plate is installing the appliances.
Option #4
We do it all -- You enjoy it!
For some it's time; for others it's energy -- whatever is stopping you from picking up or assembling your outdoor kitchen is irrelevant. The point is, our all-inclusive delivery option handles everything so you don't have to. From design and delivery to assembly and appliance installation, the only thing you'll have to do is enjoy your kitchen when we're finished!
Got questions about our outdoor kitchens, their capabilities, and your options? Contact us online, or give us a call at (888) 747-4554.