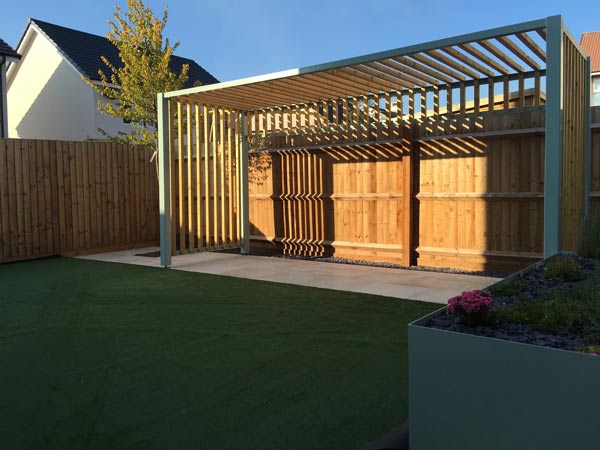 If you're in the process of planning a backyard upgrade, we suggest you consider adding a custom pergola to your list of must-haves!
Pergolas are great because they can be built as stand alone structures or as additions to your deck or patio, and they can be outfitted to fit nearly any function you can dream up. Aside from their versatility, here are 3 other benefits of having a custom pergola in your backyard:
Draw the Eye While Maintaining Privacy: Pergolas make for quite the focal point in your backyard since people won't be able to help but stare at the structure's beautiful height paired with the lovely living and dining furniture you choose to fill the space with. But, if you're concerned about unwanted glances, you can easily opt for adding a trellis to cover one or more of the open "walls". This way, what happens in your pergola will stay in your pergola.
Enjoy the Outdoors Without Having to Fight the Elements: Having a custom pergola in your backyard will allow you to enjoy warm summer days without having to deal with the blazing sun beating down on you. If the simple shade from the covered roof isn't enough to keep you comfortable, you can easily have fans or cooling systems built in! And much like you can have different cooling options, you also have different heating options to stay nice and cozy in the fall and winter months. Have your custom pergola builder install a heater, or consider springing for a gas fire table with a low flame for added warmth and ambiance!
Spend More Quality Time With Family and Friends: A pergola is the ultimate backyard gathering spot as it can be used as either a dining room, a living room, or both if it's large enough! And while the walls are often open, they still have the magical ability to keep people all in one place interacting with each other.
We can build both solid- and open-roof pergolas that will transform a regular yard into a comfortable outdoor living room, which can then be outfitted with a TV, entertainment system, and more! We can even work with other contractors to take care of your landscaping and swimming pool needs as part of your backyard makeover!
Take your backyard from groan to great. Give us a call at (888) 747-4554 or contact us online with questions, or, if you already know exactly what you want, click the banner below to request your free estimate and get started today!
If you enjoyed this article, please check out other posts on our blog and join us on Facebook, Twitter, LinkedIn, Google+, and Pinterest to see how Unlimited Outdoor Kitchen can help you build your outdoor lifestyle.