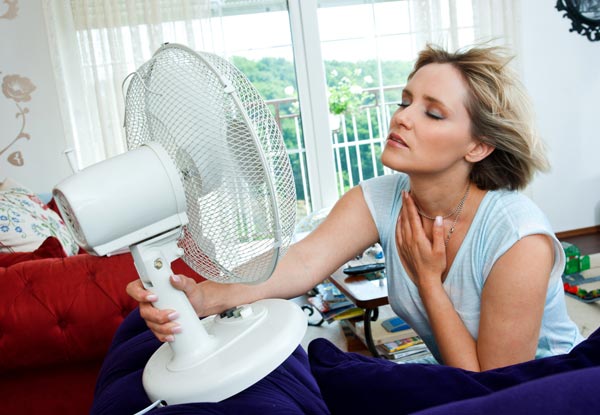 It can be hard to enjoy your beautiful backyard when it's so, so hot outside. It's a shame to have your outdoor kitchen and living room go to waste, so we want to help you beat the heat!
We know that sometimes shade from a tree just doesn't cut it, so before you give up on the great outdoors and lock yourself inside with the air conditioner, here are 3 pieces of cooling technology that will help you beat the heat in your outdoor kitchen as you cook, entertain, and enjoy your backyard:
High-Velocity Outdoor Fan: Having a ceiling fan mounted into your pergola to cool your outdoor living room doesn't help much as you're standing over the grill. If you want the same gentle breeze and air circulation over in the hot zone, try an industrial fan. A high-velocity fan spins it's blades at higher speeds than regular fans, meaning you'll experience a refreshing, powerful breeze! Just be sure you choose a model with a built-in ground-fault interrupter; this feature means your new fan will be safe to use outside.
Evaporative Cooler: This device circulates the air like a fan, but there's an added feature you're going to love. Rather than just moving air around, an evaporative cooler sucks in warm air, then passes it through a wet filter which allows it to cool before it is blown out to comfort you with an extra cool breeze! For maximum results, leave 2 feet of clearance around the device so that it has a constant air supply and won't just recirculate already cooled air.
Misting System: If you're looking for the ultimate outdoor refreshment experience, look no further than a high pressure misting system. The delicate, cooling mist comes from perforated tubes that are mounted to your pergola or home and connected to a water supply. The pressure pushes the water through the small holes in the tube creating a fine mist that will rejuvinate you in the summer heat.
If you were thinking about having a custom outdoor kitchen, pergola, or other project built this Summer, now's your chance because we're offering a $5,000 Unlimited Outdoor Kitchen gift card to one lucky person who signs a contract with us between now and Labor Day (Monday, September 5, 2016). Just click the banner below to read the rules and to enter!
If you enjoyed this article, please check out other posts on our blog and join us on Facebook, Twitter, LinkedIn, Google+, and Pinterest to see how Unlimited Outdoor Kitchen can help you build your outdoor lifestyle.