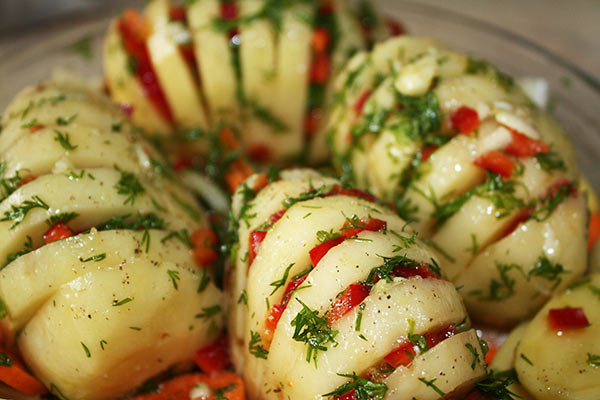 It would be a shame to spend all of your time and effort preparing a mouthwatering main course, only to find that what your guests remember later is the lackluster sides that went with it. Fortunately, we have plenty of great techniques and ideas on how to make your side dishes shine so the whole meal is memorable from start to finish. So, what are you waiting for? Let's get stared!
Have your main dish in mind? Good. Now:
Start with Food Groups
Start simple. Any meal will be complete with a meat, a starch, and a vegetable, and you can bring in your fruit and dairy with sauces if you're feeling extra inspired. Just try to not to include more than one dish from each of the food groups.
Make Eating an Experience with Texture
Food is about more than just flavor, which we're sure you'll realize after you take a second to think about your own favorite meals. A tender steak pairs great with the snap of steamed green beans. Smooth soup goes hand in hand with crunchy crackers or a crispy grilled cheese sandwich. Even a simple, soft baked potato feels incomplete without a sprinkling of firm bacon bits. See what we mean? The textures of your food play a large role in how much you enjoy your meal.
Opposites Attract
Along the same lines as incorporating dynamic textures, you want different tastes. Making pasta in a heavy cream sauce? Also serve some light, grilled veggies. If your main dish is dark and rich (think pot roast), pair it with a salad served in an acidic vinegar dressing. Or, if you're keeping things light with a grilled chicken salad, bring on a heavier multi-grain bread. You can even get away from "weight" and utilize some opposing taste buds and cooking methods: pair something sweet with something salty, something mild with something spicy, something roasted with something grilled, etc.
Pick a Theme
Not into opposites? Pick a theme! Use one spice or flavor throughout all of the foods you prepare. You can bake chicken with slices of lemon, then add lemon juice to a salad dressing, and lemon zest to a specialty cocktail. Your theme can even be your cooking method; you can grill your steak and veggies all in one pan, or roast your chicken and potatoes all in one pot.
If All Else Fails... Go with Salad
If all of this is too much to think about and choose from, you can't go wrong with a simple, green salad! Salad goes great with literally everything: pasta, meat, veggies, soup, grilled foods, roasted foods, fried foods... Salad is a safe side regardless of what your main course is.
See — side dishes are nothing to be afraid of! We know that whatever you choose to make will be delicious, especially if it's all prepared in a custom outdoor kitchen! If you're ready to transform your backyard into an entertainer's paradise, give us a call at (888) 747-4554 or contact us online to lean more about how we can help you build your outdoor lifestyle. Already know exactly what you want? Go ahead and request your free estimate!