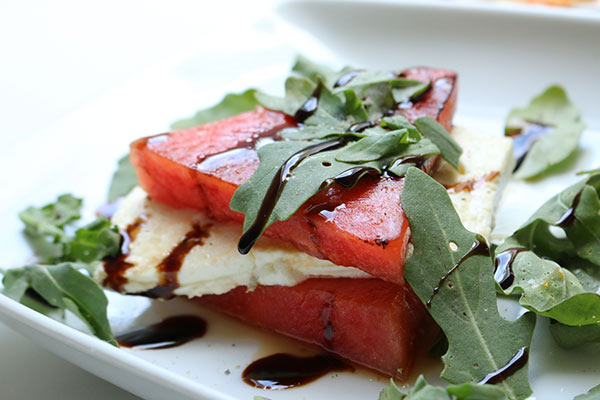 So over the last few weeks we've been helping you learn how to choose and prepare a delicious cut of meat, so this week and next week we're going to help you with choosing and preparing side dishes. Before we move on to chicken, fish, other meats, and veggies that are good enough to stand on their own, let's stick with steak for this post as we walk you through how to make some unique sides to accompany your meat for the perfect barbecue!
Rainbow Veggie Kebabs
What you'll need:
Cherry tomatoes
Carrots
Squash
Zucchini
Red onion
1/3 c Olive oil
1 1/2 tsp Dried basil
3/4 tsp Dried oregano
1/2 tsp Salt
1/8 tsp Ground black pepper
Skewers
If you're using wooden skewers, soak them in water for 10 to 20 minutes (this is so they won't catch on fire). As they're soaking, cut your larger veggies into smaller chunks (keep everything about the size of the cherry tomatoes) and slide one piece of each onto each skewer. Before throwing the kebabs onto the grill, whisk together you olive oil, basil, oregano, salt, and black pepper together, then brush the mixture over vegetables. Grill your kebabs over medium heat (we suggest you preheat) for 10-15 minutes, being sure to baste and turn the skewers occasionally.
Watermelon Salad
What you'll need:
3 c Watermelon
1/2 c Crumbled feta cheese
7 oz. Arugula
1/4 of a Red onion
2 tbsp Balsamic vinegar
2 tbsp Extra virgin olive oil
Salt (to taste)
Pepper (to taste)
Slice your watermelon and onions, and rinse your arugula. Whisk together your vinegar, olive oil, salt, and pepper, then toss all of your ingredients together. Pro tip: grill your watermelon for a couple seconds, and use a cherry or strawberry flavored vinegar for an extra bit of deliciousness.
Boom — the easiest recipes ever! The only thing better than enjoying these delicious dishes will be preparing them in a custom outdoor kitchen or barbecue island. Give us a call (888) 747-4554 or contact us online to lean more about how we can help you build your outdoor lifestyle. Already know exactly what you want? Go ahead and request your free estimate!
If you enjoyed this article, please check out other posts on our blog and join us on Facebook, Twitter, LinkedIn, and Google+ to see how else we can help build your outdoor lifestyle!