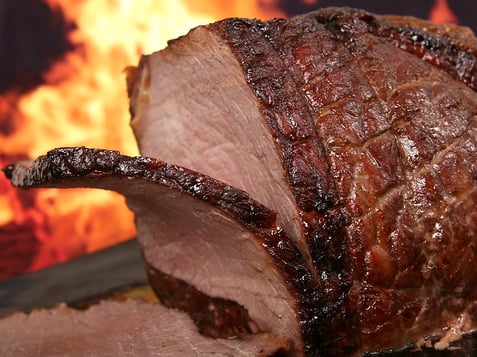 In our opinion, nothing beats tender pork barbecue fresh from your own outdoor smoker (well, except maybe a quality steak grilled to perfection). There's something about slow-cooked pork slathered with your favorite sauce or a savory dry rub that makes it a perennial favorite.
But your outdoor smoker is also capable of more. We aren't suggesting you give up your pork barbecue habit, of course. But once you try some of these other mouthwatering possibilities, you'll want to expand your outdoor smoker use for all sorts of delicious meals.
Beef Brisket
Go Texas style with a delicious beef alternative to pork barbecue. Brisket does especially well with absorbing the flavors of charcoal or wood smoke. This tough cut of beef takes a good amount of time to cook in order to get it tender, but it's more than worth it in the end.
Try this Texas-inspired brisket recipe from Epicurious.
Lamb
Smoked lamb is perfect for spring holidays or just for adding something different to the dinner menu. If you're not familiar with lamb's unique flavor, you may be in for a pleasant surprise. Your smoker can accommodate different cuts of lamb, which can be seasoned with a dry rub or even marinated with wine.
Here's a recipe for smoked leg of lamb, one for smoked rack of lamb, and instructions for smoking lamb shoulder.
Ham
Technically ham is still pork, but it's an entirely different cut with a very different texture and flavor. Your outdoor smoker can turn a supermarket spiral-cut ham into a cause for celebration. A sweet glaze made from brown sugar, fruit juices and/or honey will caramelize around the tender smoked meat.
Try this Honey Baked ham recipe from HowtoBBQRight.com
Holiday Turkey
If you're not a fan of crowded kitchens during the holidays, leave the pie and mashed potato duty to your mother-in-law and volunteer to smoke the turkey outdoors. That's right—as long as you've got the capacity, you can cook an entire (thawed!) turkey in your smoker. Consider brining the bird ahead of time for extra flavor retention.
You can follow these simple turkey smoking instructions from the New York Times, or have all of your questions and more covered with this comprehensive article from AmazingRibs.com.
In the market for a new smoker?
Once you've smoked your own meat, we know you'll never want to go back to the store-bought variety. If you're ready to invest in your own outdoor smoker or grill, or you want to upgrade your current model, the experts at Unlimited Outdoor Kitchen will be happy to help you find the right model for your lifestyle!