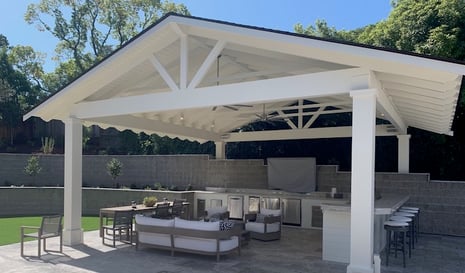 The trend of transforming your backyard kitchen into a "mini-gym" is gaining popularity, and it's not without reason. With many of us leading sedentary lifestyles, finding ways to incorporate physical activity into our daily routines has become increasingly important. Fortunately, an outdoor kitchen built for movement and exercise provides an ideal solution. By tweaking the outdoor kitchen design, people can easily exercise at home, leading to a healthier lifestyle.
So, how can you make your outdoor kitchen more functional for fitness? Here are four key areas to consider.
The Outdoor Kitchen Organization
In most cases, people tend to position their outdoor kitchen and patio furniture in close proximity due to space limitations. However, if you have enough room in your backyard, spreading out your living space is highly recommended.
By incorporating a set of steps that lead from your kitchen to the dining area, you not only create more opportunities for movement but also introduce an element of luxury. This separation adds a touch of sophistication to the dining area, setting it apart from the rest of the kitchen and elevating the overall outdoor experience.
The Equipment

When selecting equipment, it is important to ensure they appear purposeful and harmonize with the overall outdoor kitchen design. After all, you want your outdoor kitchen to be a place that allows you to stay active and fit, without resembling a kitchen transformed into a fitness center. With that in mind, here are a few outdoor kitchen ideas:

Place a chin-up bar by the outdoor grill station -
Instead of opening the grill or flipping the meat more often, make something more useful with your time. A chin-up bar offers a perfectly accessible distraction that keeps you moving while grilling. You can work on getting that perfect char on your steak between chin-ups.
Read >> How to Choose the Right Grill for You
Hang a rope ladder from your pergola

Adding a rope ladder to your outdoor kitchen pergola is an excellent choice. It provides a practical and cost-effective option, particularly when compared to other workout equipment. To make this outdoor kitchen idea work out (pun intended), it is crucial to ensure the sturdiness of your pergola. The last thing you want is for the entire structure to collapse while you or your family are attempting to climb the rope ladder.
Read >> What Material Should I Use for My Backyard Pergola?
Put swivel chairs at the outdoor bar
Swiveling in your chair is not only enjoyable but also provides an opportunity to engage your abdominal muscles without even realizing it! Rather than opting for stationary outdoor bar stools, consider choosing swivel chairs for your favorite outdoor spots. This allows you to move and stay active while still relaxing in comfort.
The Outdoor Kitchen Flooring
Patios offer a great setting for relaxation and activities like yoga. However, the uncomfortable nature of typical patio flooring, such as concrete or ridged wood decking, poses a challenge for certain poses like shoulder stands.

To address this, incorporate low impact flooring into your outdoor kitchen design. During the planning phase, dedicate a specific area in your outdoor living space. Install suitable flooring near the fireplace for hot yoga or position it strategically in a kitchen corner with a scenic view.
The Final Touch - The Sound System
Consider installing an outdoor audio system or portable speakers in your outdoor kitchen to enjoy music while cooking and exercising. Music can enhance your motivation and make your workouts more enjoyable. Ensure that the audio system is weather-resistant and positioned in a way that provides optimal sound quality throughout the kitchen area.
Read >> 16 Outdoor Kitchen Gadgets and Accessories for Under $100
Designing an outdoor kitchen that is functional for fitness expands opportunities for physical activity in our daily routines. By organizing the space thoughtfully, choosing suitable equipment and flooring, and adding an audio system, we can seamlessly blend exercise with cooking. This combination not only supports a healthier lifestyle but also enhances the overall outdoor experience
Looking for more outdoor kitchen ideas?
Contact Unlimited Outdoor Kitchen to work with a professional designer on your dream outdoor kitchen! We'll focus on your unique preferences, whether it's movement or something else. Click on the banner below to get started today!