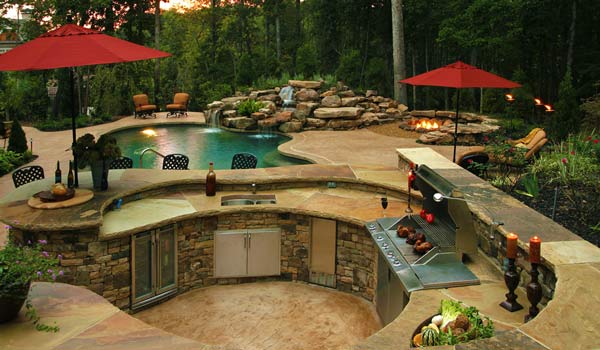 An outdoor kitchen is a lot more than just a grill, so you're going to have to put a lot more thought and care into how this new addition is going to function in your backyard. To help you guarantee your new kitchen will work well, function efficiently, and look great, we've put together these 8 tips for better outdoor kitchen design:
Determine the kitchen zones you'll need:
We've talked before about how planning your zones and counter space will help you determine the size of your outdoor kitchen. Thinking of your outdoor kitchen in "zones" and "landing areas" will help you be able to determine the space you'll need for everything — food prep, cooking, dining, and even socializing — to function properly.
Think about how you'd like for your indoor kitchen and outdoor kitchen to work together:
Ask yourself, "How self-sufficient do I need for my outdoor kitchen to be?" If you want an outdoor kitchen that truly stands on its own, it can be located farther away from your home, but it will also need to be much bigger and include more appliances and utilities.
No matter how self-sufficient your outdoor kitchen is, you'll likely still need your indoor kitchen for some tasks. Be sure to consult with your outdoor kitchen designer about how they can still be used together and the traffic pattern between the two.
Be sure to choose appliances and materials that can withstand the elements outdoors:
304-grade stainless steel is high quality, sanitary, corrosion-resistant, and can be easily cleaned making this material a great choice for your appliances and utilities.
When trying to choose a material for countertops, you have a lot to consider. Darker, denser materials absorb more heat but are less porous, while lighter materials will stay cooler but may need to be sealed more often.
Try to incorporate design elements found on your home:
Your outdoor kitchen is an extension of your home, so be sure you include design elements and materials also present on and around your house. This will make your new kitchen look like it truly belongs in your backyard, and will give your property a cohesive look.
Make sure your new addition(s) have a nice flow:
When adding an outdoor kitchen, you may also be adding a dining area or even an outdoor living room shaded by a pergola. The longer your event, the more people will be moving around — so be sure your structures and seating areas are spaced out enough so that people can move around easily, but are not so far apart that everyone breaks a sweat trying to get from the food to their seat.
Don't forget the chef! The person on the grill is likely the person who decided to have the outdoor kitchen installed in the first place, so don't leave them out of the fun! The kitchen doesn't necessarily need to be at the center of everything, but it also doesn't need to be isolated from the rest of the backyard fun.
Think about the utilities you'll need and how they'll work:
Planning your zones will allow you to determine the right mix of appliances and utilities to make your kitchen function exactly how you want it to. Once you know what all you want, you can start consulting with your designer/contractor on making it all work.
The location of your new structure in your yard will affect how easy or difficult it will be to hook up any gas lines, plumbing, or electricity. The closer to your home your outdoor kitchen is, the easier it'll be to incorporate your utilities.
Consider your options for maximizing comfort:
Installing a custom pergola to shade the kitchen and transform the entertainment area into an outdoor living room. The roofed structure will provide shelter from pop up rain showers, shade you from direct sunlight, and the addition of a ceiling fan or other cooling system will guarantee comfort.
Alternatively, when the nights get a little chilly, you and your guests will love to sit around a custom outdoor fireplace to stay nice and cozy warm. Or, if you don't care to have a full on fireplace you could also take the chill out with a fire table, natural gas patio heater, portable propane patio heater, or even radiant heat under your patio and countertop
Look into outdoor speaker systems and televisions for the ultimate outdoor entertainment experience. Just be sure you choose a television that'll display bright enough to be seen clearly outdoors, and a speaker system that's loud enough so that everyone can hear but not so loud that you'll disturb the neighbors.
Be sure you'll be able to see throughout the evening and night:
Most parties and gatherings take place later in the day, so be sure there's task lighting for the chef to be able to cook with ease as the sun goes down, and ambient lighting for your guests to be able to be able to see and easily eat their meal.
Nothing quite ruins a party like an accident or injury, so be sure all steps and paths are well lit so nobody falls and scrapes a knee or sprains an ankle.
When you're ready to make the most of your backyard with a custom outdoor kitchen, living room, or other project, give us a call at (888) 747-4554 or click the banner below to request your free estimate. Still too early in the process to commit? Contact us online to ask anything you'd like, or see what past customers have to say about working with us.
If you enjoyed this article, please check out other posts on our blog and join us on Facebook, Twitter, LinkedIn, Google+, and Pinterest to see how Unlimited Outdoor Kitchen can help you build your outdoor lifestyle.