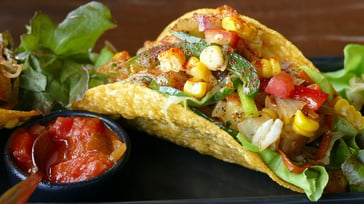 Across the country, Americans will soon be celebrating Cinco de Mayo—Mexico's independence day—whether they have Mexican heritage or not. If you're looking to tip your hat to our southern neighbors but don't look forward to crowded restaurants, relax—you can host a great May 5th party in your own backyard kitchen!
Since most celebrations center around delicious food, you're well equipped to create spicy and satisfying dishes if you have a grill and a bit of outdoor counter space. Here's how to cook up some beloved Mexican fare:
Tasty Tacos
Step aside, boring ground beef. Several delicious traditional taco fillings are best prepared on a grill, including al pastor style (using pork) and carne asada (steak strips). Here are a few meat and marinade combinations:
We suggest you grill up a protein (or two or three, if you're feeling inspired) and then set out toppings and tortillas so guests can assemble their own creations.
Street food favorites
You can find street vendors cooking up inexpensive eats in many countries, but Mexico City's street food is legendary. You can recreate some local and tourist favorites on your own grill, including:
Superior salsa
Put that jar of pre-made salsa down and step away. If you have your grill already hot, it just takes a few minutes to add a fire-roasted flavor to tomatoes, peppers, onions, and garlic and more. (Here's a basic recipe to guide your vegetable choices.) Drizzle the veggies in oil before putting them on the grill grates, then let them get black and blistered before transferring to a food processor. Your guests will ask you where you got such a high-quality salsa!
Burgers with a kick
Want to pay homage to Mexico while still enjoying traditional American cookout fare? Add a toppings bar for perfectly grilled hamburgers with a south-of-the-border theme, including:
Pico de gallo
Salsa
Guacamole or fresh avocado slices
Jalapeños (fresh or pickled)
Mashed pinto beans
Diced onions
Cilantro
Queso blanco or nacho-style cheese sauce
Your favorite hot chili sauce
A squeeze of lime
Finish it up
If you and your friends enjoy margaritas, you can make your own with one of these many sweet and/or salty recipes. Or, for a non-alcoholic treat, try your hand at a sweet rice horchata.
Not sure your outdoor kitchen is up to the challenge? Whether you're looking to upgrade your grill or want an entirely new setup, Unlimited Outdoor Kitchen can help. Give us a call at 888-7-Grill-It or contact us online.