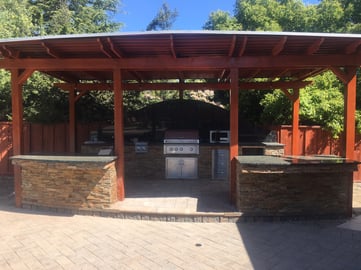 So you've decided that your backyard just won't be complete without a custom pergola. Perhaps you're most interested in the comfortable shade it can provide as you cook and entertain outdoors, or you love the visual interest it will provide for your landscape.
You've also decided that a pre-fabricated model just isn't for you, and that you want something customized for your yard—or integrated into a new outdoor kitchen. Maybe you're planning to do a full DIY job, or maybe you'd like to get a professional to help you design, build, and/or install it.
In a previous post, we discussed the materials for building a pergola, and the pros and cons of each. In most cases, wooden pergolas will give you the most flexibility for creating your own design.
Here are a few ideas for where you might go from here:
Attached Pergola
In some cases, you want your new pergola to add on to an existing structure, such as the roofline or the back of your home. This is sometimes referred to as a "patio cover."
When designing this style of pergola, you will want to get a designer or architect involved to make sure that the structure is properly supported and won't create a strain on your roof or siding.
The visual style you choose will be heavily influenced by your home's current architecture, and it can be painted to match your home's color scheme.
Garden pergola/arbor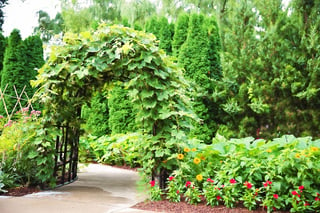 Perhaps you're looking to add a little visual interest to your garden—a dramatic entrance, maybe, or something to provide a little shady spot for a bench. Take a cue from Old World-style gardens and consider building a simple garden arch. You can plant decorative vines such as morning glories or even grapes for a beautiful statement.
Minimalist style
If your décor style tends to follow the "less is more" mantra, you may be happiest with a pergola design that emphasizes straight lines and few frills. But don't confuse simple with boring—a minimalist pergola can still offer beautiful wood tones and can harmonize beautifully with your landscaping.
Eye-catching extras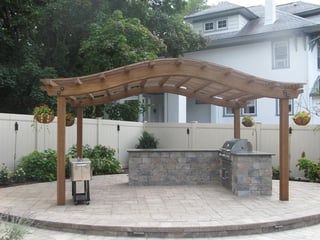 You can borrow the minimalist style and then add something unusual or visually striking, such as hand-carved support beams or a beautiful curve. A bit of curve or angle is better for closed-roof pergolas, since it allows rain to flow down the solid surface.
Unless you're a skilled woodworker yourself, you may need to get an expert to add these kinds of details.
Ornate outdoor room
You don't have to stick with only wood tones, even if wood is used as a base. Stonework, columns, and plaster can all be added to create a sturdy outdoor structure that's impossible to miss. We've had several clients who have used beautiful embellishments to create a full outdoor living room or as a shelter for an all-weather outdoor kitchen.
Ready for the next step of the design process? If you're in the San Jose area, one of the custom pergola experts at Unlimited Outdoor Kitchen would be happy to help make your dream a reality. Give us a call at (888) 747-4554 or contact us online.