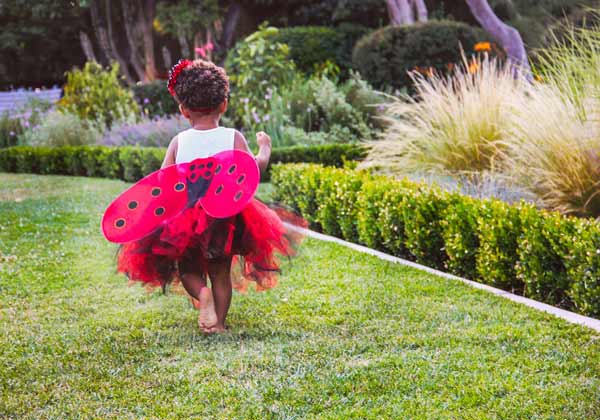 When you're designing your outdoor kitchen and thinking of everything you need to make it perfect, don't forget to include some kid-friendly features! Because whether they're your own children, your nieces & nephews, your grandchildren, or even your neighbors' kids, you'll eventually have little ones running around, and you'll certainly want them to be as safe as possible as they join in on your backyard fun. Here are 4 easy ways you can make your outdoor kitchen safer for the children in your life:
Child-Friendly Outdoor Kitchen Features
Slip Resistant Flooring
When designing your kid-friendly outdoor kitchen, you've got to work from the ground up. Think about it: if your kids are running around having fun enjoying the great outdoors, they probably aren't going to stop to wipe their feet after running through the sprinklers or check for any food grease that may have splashed onto the ground.
To minimize slips and maximize safety, we suggest you choose a textured flooring option like flag stone, brick pavers, or unglazed porcelain. Each of these materials reduce slips thanks to their increased surface area.
Separate Hot and Cold Appliances
Once you've eliminated slips, you should think about creating a burn-free kitchen. On a hot day outside, kids are going to love the convenience of an outdoor fridge filled with juice and water, an outdoor freezer filled with popsicles, and an outdoor sink to wash their hands. We suggest you keep these kid-friendly outdoor amenities away from the more intense appliances.
By keeping hot appliances like grills and pizza ovens on the opposite end of your barbecue island from cold appliances like freezer drawers and refrigerators, children will have fewer reasons to be near hot grates and open flames and will be far less likely to get burns.
Rounded Countertop Edges
Now that you know how to keep burns at bay, let's turn our focus to bruises and cuts. When it comes time to pick out your countertop you'll be faced with a lot of choices, but don't forget about the most important choice of all: square corners or rounded corners.
When countertops are right at face-, eye-, and ear-level, having smooth, rounded corners rather sharp, square ones makes all the difference in the world when accidents happen. If your child accidentally bumps their head on a square corner they could end up with a painful cut, but if they have an accidental run in with the rounded corner of your countertop, they walk away with nothing more than a little bump that could fixed with a simple smooch!
Give Them Their Own Space
One final way to keep children safe in your backyard is to create a space just for them! Get an adorable kid's table and chair set and create a space they'll feel comfortable in so they won't feel as tempted to run around in the kitchen area with all the "boring adults."
We focus on providing the best possible information, materials, customer service so you get the most out of your investment. When you're ready to build your new kid-friendly outdoor lifestyle, give us a call at (888) 747-4554 or request your free estimate! Still too early in the process to commit? Contact us online to ask anything you'd like, or click the banner below to see what past clients have to say about our work.