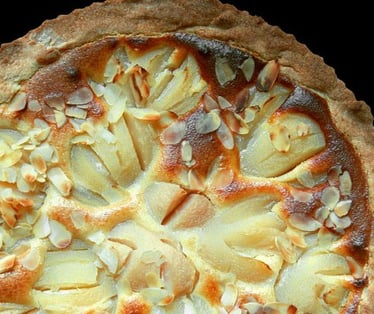 In previous posts, we've covered s'mores and other treats you can make over an open fire. Your outdoor fire place or fire pit isn't the only part of your outdoor kitchen capable of making delicious treats!
Here's a beginner's guide to preparing desserts in your outdoor kitchen:
Desserts on the grill
Let's start with the simplest option: grilling whole or sliced fruit, which can bring out a number of complex caramel flavors. Serve grilled fruit warm with a side of vanilla ice cream for an irresistible treat. Here are some easy recipes to get started on:
Fruit pies and crumbles are also relatively easy to make on the grill. You'll need to keep the cover down during cooking time to keep the temperature right, and you'll need to make sure you have a pie dish that can handle the heat of the grill grates (many glass pans may not be able to take it, so proceed with caution).
Here are a few of the many recipes out there:
You can also toss pre-made desserts on the grill for a short time to enhance their flavor. It's the best of both worlds: zero prep time plus getting credit as a grilling genius. You can try:
Pizza oven desserts
If you're lucky enough to have a backyard pizza oven, once the pizza comes out you can pop in a sweet treat, such as:
Desserts in your smoker
Believe it or not, you can also prepare deserts in your barbecue smoker for a rich flavor.
We hope these ideas have gotten your mind working and your mouth watering. If you've got desserts on the brain but don't think your current grill, pizza oven, or smoker is up to the job, take a look at the line of quality cooking tools that Unlimited Outdoor Kitchen has to offer: