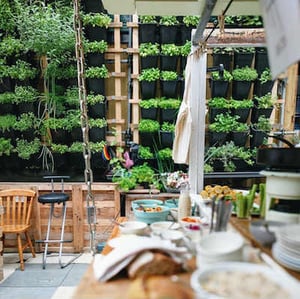 One of the best things about a customized outdoor kitchen is that you get to handpick everything. From the granite countertops to the battery-powered or solar lighting, your custom outdoor kitchen space exudes your taste in both form and function.
While form is the first thing you notice about an outdoor dining area, function is arguably the most important part because kitchens are meant to be used, not just observed. When you make decisions about your kitchen's function, you'll need to make decisions about appliances, including whether or not you should install an outdoor refrigerator.
In this blog article, we'll explore your refrigerator options as well as the option to forgo an outdoor refrigerator. Let's get started...
Outdoor refrigerators are special
The refrigerators you see in outdoor kitchens are not the same as the refrigerators you see inside houses. Many people don't realize this. They assume an outdoor refrigerator is just a refrigerator that happens to be outside. No, outdoor refrigerators are specifically designed to be outside and to function effectively even in extremely hot or cold temperatures.
While most homes' temperatures vary no more than 20 degrees or so, outside temps typically fluctuate much more drastically than that in just a 24-hour period. To compensate for nature's climatic ups and downs, outdoor refrigerators must have ample insulation and extremely powerful compressors.
The cost of an outdoor refrigerator
Added insulation and power comes at a cost. The price of an outdoor refrigerator varies depending on its brand and style, but you can expect to spend anywhere from $600 to $2,000+ on one for your outdoor kitchen.
It is important to remember, though, that you get what you pay for. While all outdoor refrigerators have a stainless steel exterior, not all are made with the same grade of stainless-steel. The higher the grade, the better the quality, which means the less susceptible your outdoor refrigerator is to rust.
Utility requirements
Even if you're absolutely sure you want a refrigerator in your outdoor kitchen, you'll want to consult with a professional before you go out and buy one. An electrician or a builder who installs outdoor kitchens will be able to identify what utilities you have and what's missing.
For example, do you have enough outlets? Are they in the right places? Some outdoor living areas actually have too many outlets. Whether you're short on outlets or overloaded with them, you'll definitely need to call on a professional to address the problem and prepare your space for an outdoor refrigerator.
Taking care of your outdoor refrigerator
Like every appliance in your outdoor kitchen, your outdoor refrigerator should be carefully maintained. Here are some tips for keeping your refrigerator in great condition:
Cover it. Even if your refrigerator is coated with the highest grade of steel, it's not completely weatherproof. Consider installing some sort of awning over your entire outdoor kitchen to protect your favorite cooking area.
Turn it off as necessary. Refrigerators typically run at about 40 degrees Fahrenheit. If the temperature outside dips below that, there's no reason to keep it running. In fact, doing so will likely cause problems. That's why it's recommended that you unplug your outdoor kitchen appliances during the winter.
Give it breathing room. Make sure your refrigerator has proper ventilation. Built-in refrigerators have vents at the bottom while freestanding refrigerators, which are much larger, have vents at the base as well as on the sides back. For these vents to function effectively, your refrigerator must not be flush against the wall or counter.
Clean it. Need we say more? Refrigerators have a way of collecting foods and hiding them until their smell gives them away. Make a habit of going through your refrigerator at least once a week and throwing away anything that's expired. Not only will this keep your refrigerator fresher, but it also gives you the chance to turn some of those leftovers into a tasty new dish!
The right fit
Remember, shopping for outdoor kitchen appliances like a refrigerator doesn't have to rest solely on your shoulders. Click on the banner below to explore our Outdoor Kitchen Design Guide. You can also contact us online or call us at (888) 747-4554 to speak with an outdoor kitchen designer!