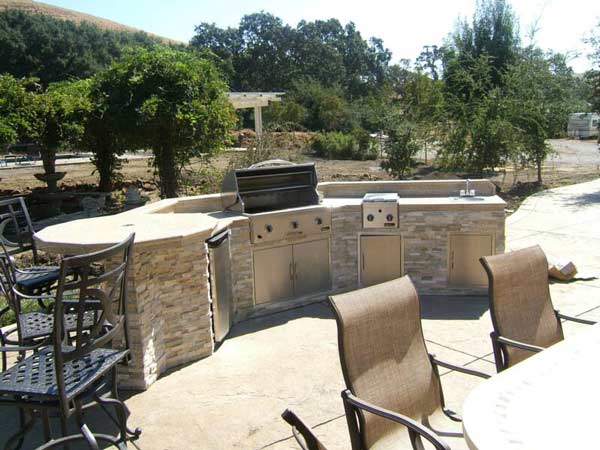 Are you in the early stages of planning an outdoor kitchen and are starting to look for the right appliances to bring your new addition to life?
Here are a few things you should keep in mind as you continue shopping for outdoor kitchen appliances that will help you make the right choices when it comes to durability, functionality, and convenience. We even threw in a few maintenance tips so you'll know exactly how to protect your investments. Enjoy:
Tips for Choosing and Maintaining Your Outdoor Refrigerator
Just because the refrigerator is labeled for outdoor use, doesn't mean it's completely weather-proof. Even the highest quality outdoor fridge on the market should be covered and unplugged during harsh storms and cold winters.
Not all stainless steel is created the same, so when shopping for your outdoor fridge be sure to choose the highest-grade steel you can afford to avoid rusting.
Never run your fridge when it's below 40° outside. Refrigerators are usually just below 40 on the inside, so they don't run efficiently when the outdoor temperature is at or below the temperature inside the fridge itself. When temperatures start to drop, empty your outdoor refrigerator, unplug it, and cover it leaving the door cracked just a hair to avoid mold.
Double check that the fridge you picked out is made to be built-in to an outdoor kitchen rather than just a freestanding unit. An outdoor fridge that's intended to be freestanding can't be built into a structure because it won't have the proper space for ventilation and, therefore, won't be able to run efficiently.
Tips for Choosing and Maintaining Your Grill
Set a budget, and only look at grills within that budget. In fact, you should set a budget and shop for grills that come in under that budget so you still have some breathing room in case you need to set up a gas line, pay for setup and installation, or even just cover shipping.
Filter your search by the dimensions your grill was designed to fit. If you're shopping for an already installed outdoor kitchen you'll have to match the dimensions pretty exactly, but if you're still in the planning phase you probably have a little more leeway.
Learn the differences between propane, natural gas, charcoal, and electric grills, and decide whether you want cast iron, stainless steal, or ceramic grates. Each of these options come along with their own set of pros and cons, so take your time so you know you're making the right choice for your wants and needs.
Find the unique mix of features and options that'll make your grill truly yours. Nowadays you can get grills with convection ovens, side burners, a rotisserie, and even speakers! So, while you may not need every single feature and attachment available, having a few key ones can be pretty great!
Tips for Choosing and Maintaining Your Outdoor Kitchen Sink

When it comes to your outdoor kitchen sink, you can't go wrong with a 304-grade stainless steel basin, which is a very durable and hygienic solution. For the faucet, you want something with a physical vapor deposition (PVD) finish; the best option is a solid brass faucet with a PVD finish and ceramic disk valves.
Having hot water in your outdoor kitchen is more of a luxury than a necessity, so we suggest you only have cold water plumbing installed. But if you do want hot water, an on-demand water heater is probably your best option.
Once you run the water it has to drain somewhere. Decide whether you want the sink to drain into your home's waste water system, into a French drain or dry well, or simply into a bucket.
When temperatures start to drop, you'll have to be sure you winterize your outdoor kitchen plumbing before you have to face frozen pipes. You'll likely be able to turn off the water with a valve inside your home, and from there you'll have to drain the pipes so the water doesn't freeze, expand, then cause the pipe to burst. The plumber that you work with should train you on the exact winterization steps you need to follow, and will be able to answer any other questions you may have.
Keep these tips in mind and it'll be impossible for you to ever have a disappointing outdoor kitchen experience. Now that you know what look for, are you wishing for a better space to cook in? Give us a call at (888) 747-4554 or contact us online — we build custom outdoor kitchens, barbecue islands, pergolas, and even fireplaces all across the Bay Area. We can even offer you a free estimate so you'll know exactly what it'll take to bring your dream barbecue island to life! If you're ready to start appliance shopping, just click the banner blow to browse our grill lines!
If you enjoyed this article, please check out other posts on our blog and join us on Facebook, Twitter, LinkedIn, Google+, and Pinterest to see how Unlimited Outdoor Kitchen can help you build your outdoor lifestyle.