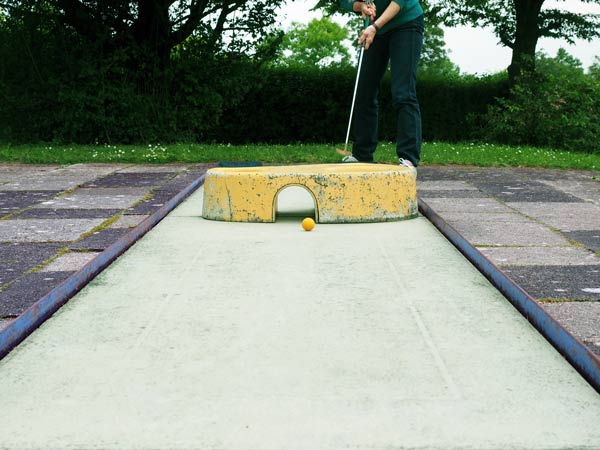 We've written before on DIY projects you can do to spruce up and personalize your yard, but we also want to help you find new ways to help you enjoy the time you spend out there!
To help you combat boredom this coming summer (and beyond), we've put together a list of DIY projects for all skill levels and for all interests to help you, your friends, and your family have some great backyard fun.
DIY Backyard Fun
1.) Love the classics? Play backyard Twister!
If you're looking for something both frugal and fun, this project is for you. With little more than a few cans of spray paint, you can have a game for both the young and the young at heart.
2.) Want a little friendly competition? Build a mini golf course!
This mini golf game is made of interchangeable panels that can be arranged to create different courses. Challenge your family and guests to a little hole-in-one competition and see who the real golf champ is (and remember, the winner gets to pick dessert)! This project requires a little more patience and precision, but we know you can handle it.
3.) Need relief from the heat? Make a sprinkler tunnel!
There's nothing quite like our California heat. So when the days get a little too toasty, take a dive through this sprinkler tunnel! This project requires a few special tools, but is pretty easy to bring to life (even for the beginner).
4.) Have an avid gamer? Play real life Angry Birds™!
Angry Birds™ is a ridiculously popular mobile game (and movie) that is also ridiculously easy to create and play in real life. The best part about this game is that it's modular! Once you have all the pieces (which will require a little creativity), you can easily put them together in infinite combinations. That's right, with this game the building is just as fun as the destruction.
5.) Just want to relax? Create your own backyard movie theater!
Your time outdoors shouldn't end just because the sun goes down. Enjoy evenings outside making gourmet treats around your custom fire pit and watching all of your favorite movies with this DIY backyard movie screen. The assembly is easy, but it will take a little bit of time and a few family members to complete (but that just means more quality time you can all spend together).
If you think these projects seem fun but have bigger ideas on how to transform your backyard, click here to get your free estimate — we build custom outdoor kitchens, pergolas, fire tables & fire pits, fireplaces, and pizza ovens! If you aren't quite ready to commit, feel free to give us a call at (888) 747-4554 or contact us online — we'd love to answer any lingering questions you may have!
If you enjoyed this article, please check out other posts on our blog and join us on Facebook,Twitter,LinkedIn, Google+, and Pinterest to see how Unlimited Outdoor Kitchen can help you build your outdoor lifestyle.