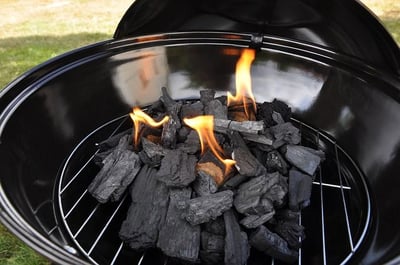 It's important to make time for deep cleaning and maintenance for the grill or smoker you have in your outdoor kitchen. Without routine cleaning and maintenance, you'll not only lose functionality over time, you'll start to notice an unwelcome change in the taste of your food.
Stick with twice-per-year deep cleaning for your grill, and you can ensure your outdoor kitchen is still turning out delicious meals for years to come.
Here are a few tips on properly cleaning your Kamado grill or any other outdoor grill:
How to Clean Your Kamado Grill
First, you'll need to gather together a few items. Some of these are absolutely necessary, but some are more for convenience. We'd still recommend them, as the time they save is definitely worth the extra effort.
You'll need:
Charcoal
A plastic scrub brush or bristle brush
Scoop for removing ash
Shop vac for ash removal (optional)
To give your Kamado grill a deep clean, you'll first want to start a fire in the bottom of the grill, placing a heat deflector rack with a deflector on it. You'll want to place the grill back on at this point, or use another cooking surface like a pizza stone.
Close the lid, and bring the temperature up to 650 degrees Fahrenheit. Maintain for about half an hour, or if you're looking for a really deep clean, you can let the grill heat for a full 60 minutes. Once that time is up, open the vent and allow your grill to cool completely, preferably overnight.
Remove the accessories, grill, and heat deflector rack once your grill is completely cooled. Clean out the charcoal, remove the fire ring and fire box, and then use the scoop to remove the remaining ash.
Take a bristle brush and give every piece of your Kamado grill a really good brushing. Give close attention to the inside of the grill and any ceramic pieces. Once you've done that, reassemble the ceramics and replace the deflector. Spray the grill grate with cooking spray, holding the spray steady for five to ten seconds until the grate is completely coated.
Replace the grate and wipe down the outside, if desired. Use a brush and scoop to pick up any remaining ash that has fallen to the ground, or bring out the shop vac.
There you have it! Your Kamado grill is completely clean and ready to cook up whatever your heart desires, whether it's kebabs, steak, or any other treat that tastes best with a little bit of fire and smoke. We recommend going through this process about twice a year to ensure optimum flavor and functionality for your Kamado grill.
What If My Grill Isn't a Kamado Grill?
At Unlimited Outdoor Kitchens, we know that our customers have their own unique preferences, and a Kamado grill may not be one of them. That's why we have plenty of other grill options available, and the cleaning process for these grills isn't much different.
There are a few extra steps, however.
What you'll need:
Gloves
Grill brush or bristle brush
Cleaning rags (or paper towels)
Putty knife (optional, may not be needed)
Soap and water
Make sure the grill is completely turned off. With a charcoal grill, this step is as easy as ensuring no fire has actively been lit, but with gas grills, you'll need to be a bit more cautious. Make sure all dials are in the off position, and disconnect the propane tank. Do not clean your grill unless you are certain the propane tank is disconnected.
If you do have a charcoal grill, be sure to dump and clean out any ashes that may be lingering in the bottom.
Remove the grill grates and soak in a solution of soap and water while you clean the rest of the grill. You can also add some baking soda or vinegar (not both at the same time, however, unless you want a science fair volcano on your hands). This isn't 100% necessary if you're only looking to perform a quick cleaning before having people over, but it still should be done about twice per year.
Clean anything that covers the burners including metal heat tents, ceramic briquettes, or lava stones. Brush them clean and place to the side. Lightly brush the burner tubes, and then take a moment to make sure all gas ports are clean and open. After that, brush off and wipe up any debris that has found its way to the bottom of the grill.
Hopefully, anything you find will come up easily, but you may need to utilize the bristle brush for any stubborn carbon flakes or grease. Next, clean the grease collection tray with soap and water, or replace if you use disposable pans.
Do not wash your grease down the drain! This is a great way to clog up your sink and create a whole new problem. Instead, pour it into an empty can, let it harden, and then throw it into your regular trash.
Once you've finished this step, return to your grill grate and scrub clean. Set in the sun to dry.
Wipe down the outside of the grill and any side tables with simple soap and water. Allow to dry. Once everything is dry, put all the parts of your grill back together, reconnect your propane tank, and you're ready to grill!
Just like the Kamado grill, we recommend this kind of deep cleaning twice per year.
Do you have further questions about deep cleaning for your outdoor kitchens? We're happy to help! Just give us a call at (888) 747-4554, or contact us online to let us know. If you're still in the planning stage of your outdoor kitchen, we'd be happy to work with you to build a custom barbecue island to your exact taste. Click here to request your free estimate.