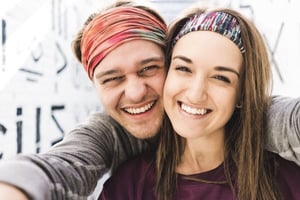 So, you know that you want an outdoor kitchen. That's great. But maybe it's not that easy. Maybe it's not solely your decision if an outdoor kitchen gets built in your backyard.
If you have a spouse or significant other, then you'll both need to agree whether or not you'd like to add an outdoor kitchen to your backyard. If your significant other is not completely on board with the outdoor kitchen idea just yet, don't give up the fight too easily. Let us help you win the debate with some tactful and true arguments.
An outdoor kitchen can actually save you money.
Let's be honest. The money needed to build an outdoor kitchen is usually the biggest hangup for homeowners. In the long run, though, investing in an outdoor kitchen can actually be a money saver. We wrote an entire blog about how an outdoor kitchen can save you money, and if you're in the process of convincing your partner that this really is true, it's definitely worth the read. To summarize, the main arguments are:
Instead of putting out money to rent venues for baby showers, birthday parties, etc., you can host in your backyard.
Rather than traveling for family reunions and holiday gatherings, host them. As long as your family is coming to see you, you're not spending travel money to go see them.
Why pay for a date at a fancy restaurant when your outdoor kitchen patio is just as nice — maybe nicer!
Your outdoor kitchen patio is your one-stop-shop when you're hanging out with friends. Instead of jumping from place to place, opening a new tab every time, you can enjoy hours in one spot without worrying that your server is getting tired of you.
An outdoor kitchen promotes togetherness.
Whether it's time with your significant other or more get-togethers with friends and family, an outdoor kitchen sets the stage for spending quality time with the people you care about. Having a grill, fireplace and patio seating right outside your backdoor is enough to not only convince people to come over, but it also makes them want to kick back and stay awhile.
If you have teenagers who are so often on the go with their friends that you hardly see them, then an outdoor kitchen and patio may be enough to convince them that your house is the ultimate hangout. The result? You get to see your kids more often (even if it's just checking on them through the kitchen window), and you can rest easy knowing your teens are staying out of trouble.
An outdoor kitchen is a great hobby.
Don't think of your outdoor kitchen as something else to take care of. Think of it as a hobby, a time investment that's enhancing your time, not just using it up. After all, using your outdoor kitchen to its full extent involves, grilling, cooking, hosting and more. These are are great hobbies and skills to learn and master!
You can start small.
If you're still having a hard time convincing your significant other that an outdoor kitchen is worth the investment, remind him or her that you can start small. You don't have to commit to everything all at once. Maybe you start by just getting a price quote. Maybe you commit to a barbecue island this summer and wait on the fireplace and smoker idea.
You have nothing to lose from exploring your outdoor kitchen options, and we'd love you help! To get started, give us a call at (888) 747-4554, or click on the banner below to contact us online!