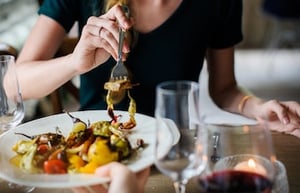 If you're anything like most American families, you probably spend more money dining out than you'd like to admit or even acknowledge. According to studies done by the Bureau of Labor Statistics, people are dining out more and grocery shopping less every year.
With so much money being spent at restaurants, there's usually not much left over for other recreational activities or home design projects — say, an outdoor kitchen, for example.
What if we told you that an outdoor kitchen could actually save you money while at the same time giving you opportunities to enjoy the food you love with the people you care about in a place you truly enjoy! Would you believe us? You should. Find out why.
If you had an outdoor kitchen...
Oh, the money you'd save!
If you had an outdoor kitchen, you'd spend more time dining there and less money dining out, even if you're cooking the exact same food. We don't expect you to get on board with this idea before actually looking at your own personal spending habits and budget, but at least consider the following hypothetical situations:
Party for a friend... The venue? Your backyard!
Next time you're hosting a birthday party, bridal shower, or anniversary celebration, don't rent a venue. Your outdoor entertaining space is nicer and more inviting than most hotel conference rooms or a restaurant's private dining area.
Venue rentals are expensive, and you only get to use them once. Your outdoor kitchen area, however, is something you pay for once, and it's available every time you need it — from one event to the next!
Family gatherings... Host, don't travel.
If your family is all over the map, you probably spend a significant amount of money traveling for family gatherings and holidays. With gas prices, meals on the road, and hotel stays, family get-togethers can really leave their mark on your bank account.
However, if you have an attractive outdoor entertaining space -- complete with a custom kitchen, grill, fire pit, and kid-friendly activities -- you just might be able to convince the family to come to you. Then, you can use some of the money you would have spent on travel expenses to cook up an unforgettable feast for the whole family in your outdoor kitchen.
Date night... Bottle service without the bill (or the tip!)
Picture your ideal custom outdoor kitchen and living space. Is it the type of setting that warrants a date night? If so, then not only will it provide a lovely backdrop for a romantic dinner, but it will also turn your date night into a much more affordable occasion without sacrificing atmosphere.
Not in the mood to cook for your date? Order in! You'll still spend less than you would dining out. Perhaps you had something a little more upscale in mind. That can easily be accomplished by treating yourself and your sweetheart to your very own bottle service or wine tasting on the patio. It will be a memorable experience at a fraction of the cost!
Sunday brunch... One stop and you're set.
Anyone who's ever met their friends for Sunday brunch knows how quickly it can get expensive. By the time you share an appetizer, order a meal, and down a few mimosas or a Bloody Mary, you've spent half of your weekly grocery budget! Plus, it seems like brunch never wraps up with just one stop. Before you know it, you're ordering a third pitcher for you and your friends, and you've long since forgotten about that to-do list you had planned to accomplish for the day.
If that sounds like a scenario you've gone through once or twice, then an outdoor kitchen can definitely save you money. Offer to cook brunch for your friends and ask them to bring the drinks! Everybody wins in this scenario because you're all saving money while enjoying your beautiful outdoor dining area — a setting that's so lovely, nobody will be trying to move on to the "next place."
Ready, set, design!
Have we convinced you yet? Once you cover the initial costs of building a custom outdoor kitchen, the space basically pays for itself. So what are you waiting for? Contact Unlimited Outdoor Kitchen and start designing yours today!