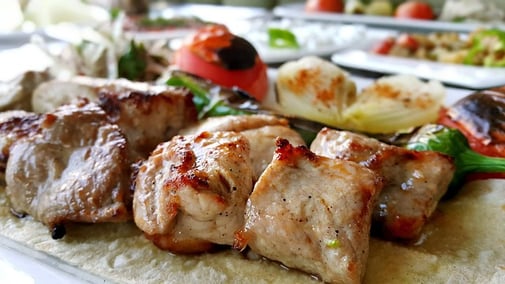 Once you've mastered the perfect hamburger or the precisely done steak, consider getting creative with one of the other staples of the summer cookout: the humble kebab.
This simple dish—consisting of skewered meat and vegetables—has origins that go back to ancient Greece and the Middle East, when cooks would roast meat over hot coals or an open fire. So it's no surprise that kebabs are so well suited for the backyard grill.
Once you've enjoyed the more traditional combination of chicken, bell peppers, red onion, and maybe cherry tomatoes over the flame, you might be ready to expand your horizons. Here are five creative kebab recipes to get you started:
Tropical Chicken Kebabs
For a little taste of paradise, don't be afraid to go sweet with tropical fruit such as pineapple and mango. Check out this mango chicken kebab recipe from BeachBody that includes a chili-lime-honey marinade. To extend the island feel, you can swap out the chicken for shrimp.
Persian Kebabs over Rice
Since our English word kebab is Persian in origin, it seems appropriate to feature a traditional recipe from Iran (modern-day Persia). This chelo kebab recipe from the LA Times calls for tender lamb or beef served over a delicious basmati rice pilaf. This dish includes more exotic ingredients such as sumac berries, saffron, and coriander, so you may need to familiarize yourself with a local Middle Eastern market.
Israeli Lamb Kebabs
These popular kebabs from modern-day Israel offer a savory combination of garlic, cumin, ginger, cinnamon, allspice, and cayenne pepper—an aroma that's sure to make your neighbors jealous! Check out the kofta kebab recipe from Allrecipes.com
Beef and Mushroom Kebabs with Balsamic
In the mood for bold, dark flavors? This beef kebab recipe from Martha Stewart features a rosemary and balsamic vinegar marinade and would pair perfectly with a red wine.
Pork Kebabs with Potato and Lemon
Yep, potatoes can get in on the kebab action too! This lemon-pork kebab recipe from BBC calls for tiny new potatoes that are boiled ahead of time for a tender, savory accompaniment to the lemon-marinated pork.
Make the most of your summer
We've barely scratched the surface of possible kebab combinations. The important thing is to try something new and make the most of your grill this summer!
Need a more reliable grill for better-tasting results? Unlimited Outdoor Kitchen offers high-quality grill brands at prices that our competition can't beat. Give us a call and we'll help you find your perfect grill match, or click below to learn more about what we have to offer.