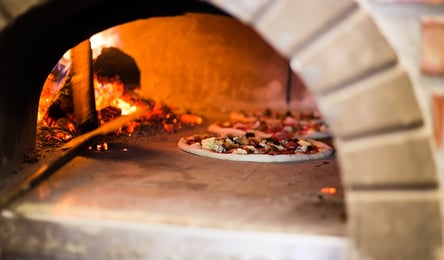 So you've finally invested in a high-quality, backyard pizza oven. You've got so many delicious meals to look forward to (not to mention lots of jealous neighbors!).
Here are a few pointers for making the perfect pizza in your outdoor oven:
Master the dough
The last thing you want for your piping hot pizza is for the crust to taste something like cardboard. In most cases, a prepackaged crust just isn't going to cut it. Learn to make your own dough so that you can really appreciate those delicious woodsmoked flavors, and enjoy the bubbly pockets the high temperatures bring out.
You'll have to experiment with what works best for you. Here are a few places to start:
Say no to soggy crusts
Once you've gotten that crust perfected, you want its texture to really stand out—crispy, bubbly, and maybe a little blackened on the bottom. What you don't want is a soggy mess.
What can ruin the texture of a perfect crust is too many moist ingredients. Be conservative with the tomato sauce—a thin layer will be plenty! Also, if you're adding toppings that release moisture as they cook—such as bell peppers, tomatoes, and some cheeses—compensate by going even lighter on the sauce, or simply using olive oil instead.
Go beyond shredded mozzarella
Now we love stringy, perfectly toasted mozzarella just as much as anyone, but hear us out. If you're trying to cut down on some of the calories without compromising flavor, consider swapping out the mild mozzarella for a stronger cheese. Feta, goat cheese, and even shredded parmesan all lend plenty of flavor with just a small helping. They can also better compliment ingredients such as sundried tomatoes, springs of rosemary, and even fruit such as sliced pears.
Pre-cook ingredients if needed
Because of their high cooking temperatures, both wood-fired and gas pizza ovens can get a pizza crisp and ready within a few minutes. It's not, however, enough time to cook raw meats or soften certain vegetables.
Be sure to pre-cook items such as sausage and chicken for safety's sake. (Thinner cuts such as bacon may be OK—but be sure to check carefully for doneness.) You may also want to consider sautéing onions, mushrooms, or bell peppers ahead of time if you're going for a richer flavor. (Just keep in mind this will add to the pizza's moisture content.)
Make more than pizza
If you already have your oven fired up and want to make more than just pizza, do what the professional pizza makers do: use the oven to cook appetizers and more. After all, the fire's already blazing—why not put it to good use?
Breadsticks, garlic knots, and pizza-like dishes such as Stromboli are easy enough to start with, since they likely use the same dough as the pizza crust. But you might also experiment with breaded mozzarella sticks, meatballs, and chicken wings (be sure to use a cast-iron pan or other cookware that can withstand high temperatures).
You might even skip the pizza altogether and make toasted sub sandwiches, putting them in just long enough to toast the bread and melt the cheese.
We wish you all the best with your new oven! And if you have any questions (or are still in the shopping/dreaming stage), feel free to reach out to the experts at Unlimited Outdoor Kitchen by calling 1-888-7-GRILL-IT or contacting us online.
Happy cooking!