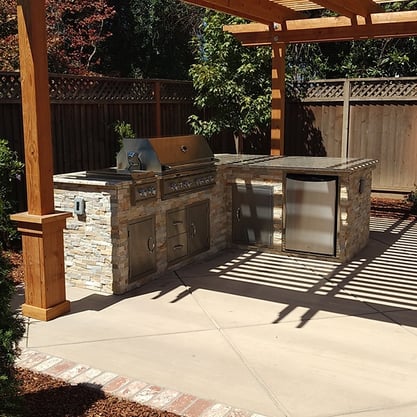 We love living in the San Jose area, but for some of us it means we've got pretty tiny backyards. (This trend is actually a fact of life for homeowners around the country, not just Californians.)
If you've got an itch to make your backyard into the ultimate place for relaxation and fun but feel like it's just too small to work with, take heart! With some creativity and a few clever upgrades, you can make the most of your tiny backyard space.
Creative Landscaping
Have you ever seen an empty room and thought it looked cramped—until you fit your entire bedroom furniture set into it? Sometimes a blank, featureless space looks much smaller than it actually is. Adding a flowerbed, a garden path, or outdoor furniture can actually make your space look bigger, plus increase its usefulness.
Tired of mowing? Ditch the lawn all together in favor of a patio, deck, or even a rock garden, and use container-grown plants to add more interesting green spaces.
A pergola
Going along with the "more looks bigger" logic from above, adding a small pergola can help maximize your space by creating visual interest. It's also a great way to create a bit of shade or even a small seating area that can be enjoyed in the summertime.
A fire pit
Want to make the most of your "cozy" backyard ambiance? Gather everyone around the fire! Get a small fire pit (permanent fixtures tend to be safer than portable ones) or have a custom fire pit designed to make the most of an unusual space.
Just be sure to place your fire pit on level ground, and keep it several feet away from your home and away from any overhanging trees.
A small grill or barbecue island
Dreaming of a perfecting your burger-grilling technique in your own backyard? Just because you've got a small space doesn't mean you can't get in on the fun. After all, a backyard grill doesn't have to be enormous to create big flavors. Weber, Fire Magic, Twin Eagles and other premium grill brands offer grills with small footprints, and an experienced designer can even build it into a space-efficient barbecue island in order to give you some counter space to work with!
Need an expert eye?
If you're looking for a complete makeover for your tiny backyard, you may want to get a professional designer involved. The backyard experts at Unlimited Outdoor Kitchen have worked with backyards of all sizes, and would love to help you get the outdoor living space of your dreams.
We'd love to give you a free estimate for your backyard project. Give us a call at 1-888-7-GRILL-IT, or contact us online to get the process started.