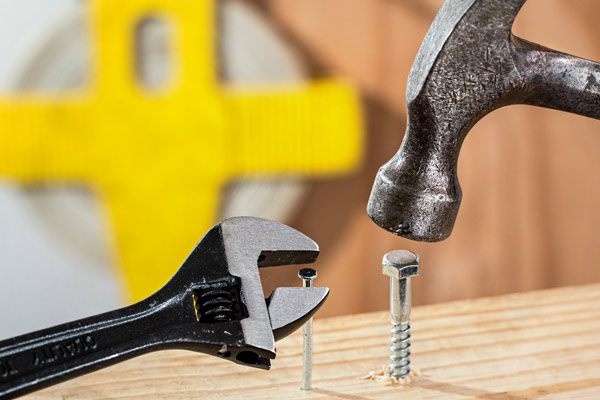 We know how much work goes into building an outdoor kitchen, so there's little we hate more than seeing the entire project botched thanks to careless mistakes. And we're not talking easy-to-fix mistakes that happen toward the end of the process like forgetting to fill the propane tank for the grill, but mistakes early on in the planning process or in the actual building that affect the entire outcome and quality of the finished project.
To help you avoid some not-so-obvious yet oh-so-unfortunate mistakes, we've compiled a list of the problems we often see and each of their solution to guarantee a smooth, safe, satisfactory build:
Common Outdoor Kitchen Mistakes
Thinking from the Outside-In
It's so easy to get wrapped up in the idea of how you want your outdoor kitchen to look and feel, but getting too carried away with the looks can come back to bite you. So while you may want several cabinets and a dozen drawers, you need to think about all of the other things that need to be inside the structure (plumbing, gas lines, actual appliances, etc.) first.
Neglecting to Insulate Your Grill
Your grill is little more than an open flame, which is not to be taken lightly. To minimize the risk of burns, warps, and full-out fires, you will need to be sure your outdoor kitchen includes an insulated grill jacket to keep things relatively cool. It's also important to note that not every grill line offers insulated grill jackets for their products, so try to only select from those that do.
Forgetting to Include Vents
What do you get when you mix an open flame, gas, and little air? A recipe for disaster. So, not only does your grill need to be insulated to minimize the risk of a fire, but it also needs plenty of proper ventilation. Be sure you have vent panels every 4'-6' placed at the appropriate height for the type of gas your grill uses.
Not Leaving Space for Hot and Cold
We've touched on this before, but it never hurts to go over it again: if possible, keep all of your hot and cold appliances on opposite ends of your outdoor kitchen. First of all, all appliances should be spaced out since running too many too close together can cause them to overheat and break. Second of all, by keeping hot appliances on the opposite end of your barbecue island from cold appliances, children will have fewer reasons to be near hot grates and open flames and will be far less likely to get burns as they come over to get a cold water from the fridge.
Buying the Wrong Appliances
Not every appliance is built to withstand outdoor conditions. Appliances intended for indoor use may not be able to withstand things like extreme temperatures or rain, and they may break down after a very short time leaving you forced to replace something you just bought! Just do a little extra research and make sure the appliances you choose can be part of your outdoor kitchen for the long run.
Ignoring Functionality
Whether it's not accounting for enough counter space, placing your kitchen in an area with insufficient lighting, or setting up shop too far away from your indoor kitchen, these functionality faux pas are all bad news. When planning your outdoor kitchen, try to think ahead to make sure using it won't be inconvenient or even impossible.
By working with an experienced company—such as ourselves—to build your outdoor kitchen and outdoor lifestyle, you can rest assured that your kitchen will be perfectly planned, built correctly, and will last a lifetime. Check out the links below to learn more about our careful processes from design to delivery (and to dinner):
If you've been dreaming of your own custom outdoor kitchen and you're ready to make that dream a reality, click the banner below to get your free estimate! If you aren't quite ready to commit, feel free to give us a call at (888) 747-4554 or contact us online — we'd love to answer any lingering questions you may have!
If you enjoyed this article, please check out other posts on our blog and join us on Facebook,Twitter, LinkedIn, Google+, and Pinterest to see how Unlimited Outdoor Kitchen can help you build your outdoor lifestyle.