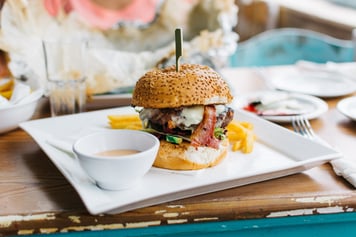 Here at Unlimited Outdoor Kitchen, we're big fans of the perfectly grilled beef hamburger. But if you or one of your cookout guests is trying to avoid red meat, don't despair—there are plenty of other tasty burger options for you to grill up!
We're going to skip the obvious swaps like store-bought turkey or veggie burgers (which can be plenty delicious on their own), and offer some more creative, homemade options.
Even if you're still solidly on Team Beef, you'll want give these alternative burgers a try, just to spice things up a bit!
Poultry Burgers
Turkey burgers are what most people think of when they think of alternative burgers. Banish thoughts of dried-out, tasteless turkey—these recipes highlight the subtle flavors of the poultry while still offering lean protein with less fat per serving:
When thinking white meat, don't forget about turkey's cousin, the humble chicken! You can find ground chicken in most grocery store meat departments. Try one of these kickin' recipes:
Pork, Lamb, and More
Now let's look at the beef burger's underrated cousin, the pork burger. Never made a burger from ground pork? You've been missing out! Try one of these variations:
Though a little harder to find at your typical grocery store than ground pork, ground lamb makes for a hearty and satisfying burger.
Trying to get more Omega-3s (and more awesomeness) into your diet? Grill up a salmon burger! Keep an eye on cooking times, since these patties cook through faster than most other burgers.
Vegetarian burger options
Who says carnivores have to have all the fun? Try these meat-free options on the grill. Note: some will need to be cooked on top of aluminum foil to prevent them from crumbling when being flipped over.
Can't get enough 'shrooms? You can marinate and grill a whole portabella cap in place of a patty for a burger that's rich in umami flavors. Try one of these:
If you're stoked about making one of these delicious burgers but aren't sure your old grill is up to the task, it might be time for an upgrade. If you're in the San Jose area, browse our line of quality gas and charcoal grills, and make your next cookout the best you've ever had.