In the heart of sunny San Jose, California, where the weather beckons you to spend more time outdoors, having a well-designed outdoor kitchen pergola is a game-changer. The team at Unlimited Outdoor Kitchen understands that creating a perfect backyard requires careful consideration of all the ways one can get shade.
Keep in mind, you can always use umbrellas as a great and decorative way to get shade. These are just some of the permanent structures we can build to really enhance your backyard. Let's dive into the world of pergolas and some alternative builds, each with its own set of benefits and drawbacks.
Outdoor Kitchen Pergola Designs
1. The Stylized Long, Wooden Pergola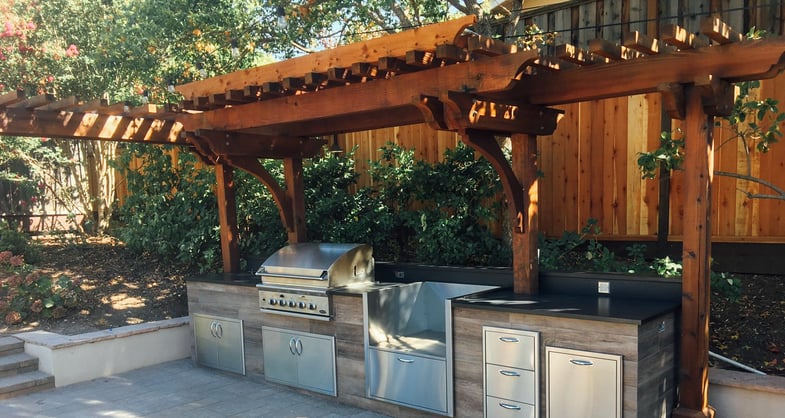 A traditional wood pergola exudes timeless charm and elegance. Crafted from sturdy, natural materials, it seamlessly blends with the scenic beauty of San Jose. Its open framework allows for ample airflow, providing a pleasant ambiance even during the hottest days. The woodsy aroma adds an extra touch of nature to your outdoor kitchen space, enhancing the overall experience.
While a wood pergola captures the essence of classic design, it does require periodic maintenance. San Jose's sunshine and occasional rain can lead to fading, warping, and wood decay over time. Regular staining, sealing, and upkeep are necessary to ensure longevity.
Pros:
Adds a natural atmosphere to the space with the wood grain
Provides beautiful dappled lighting
Relatively less expensive than a traditional pavilion or deck cover
Cons:
Doesn't allow for full patio coverage
Doesn't fully protect in the rain
Must keep up with regular staining to protect the wood's surface from weathering
2. The Arched Pergola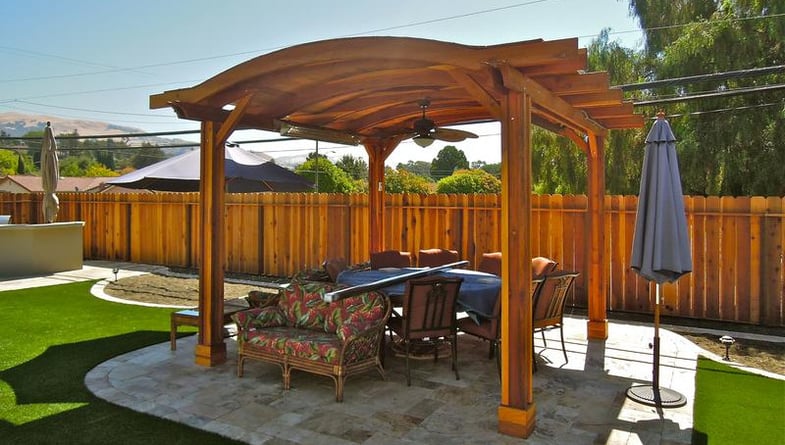 This arched outdoor kitchen pergola design takes the traditional flat-top pergola and adds a bit of flair. Arched pergolas are an elegant and captivating addition to any outdoor space. With gracefully curved tops that create a sense of height and space, these pergolas offer a perfect blend of aesthetic appeal and functional design.
The gentle arches not only provide a touch of architectural interest but also serve a practical purpose by offering shade and shelter from the sun while allowing a gentle breeze to flow through.
Pros:
A great option for adding elegance to a backyard
Can act as a focal point to draw the viewer's gaze
Can better complement natural elements with its soft edges
Cons:
Limited by the size of the materials for a perfect arch
Not a perfect cover from the weather
Get Shade >> What Material Should I Use for My Backyard Pergola?
3. Build a Minimal Pergola w/ Natural Elements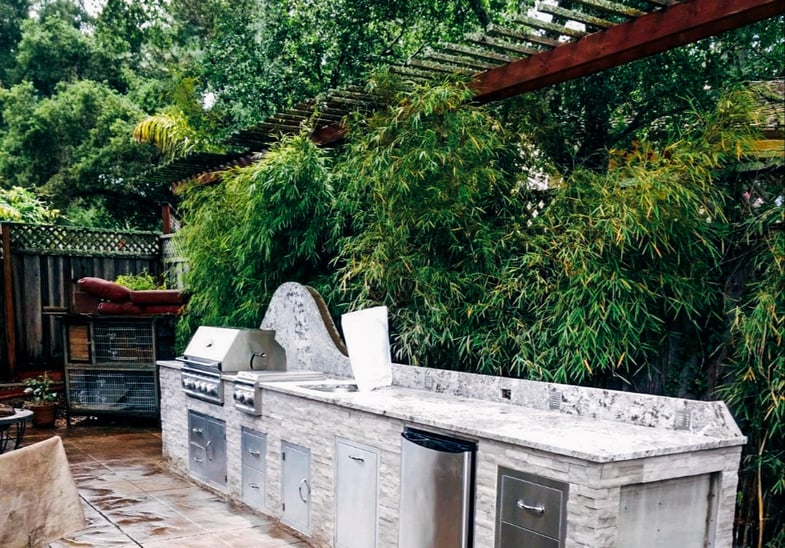 This is a simple but great way to get an outdoor kitchen pergola in your backyard. With a grill, fridge, and storage space, you have all you need to get started. This pared-down setup may seem straightforward at first glance, but a showstopping backsplash elevates the entire look.
The intertwining vines not only bestow an aesthetic allure, infusing elegance into the surroundings, but also form a natural canopy that provides gentle shade, making it an inviting spot to unwind, read, or dine alfresco while permitting dappled sunlight to filter through. They can even enhance privacy by creating a screen against neighboring views.
Pros:
Has a gorgeous natural aura with vines or other plant features
Can really highlight your outdoor kitchen space
Cons:
Natural features like vines will require maintenance often
Doesn't provide much shelter from the weather
May have to keep up with paint jobs to ensure a fresh look
More likely to get bugs in your structure with plant features
Shade Alternatives to Pergolas
4. (Alt #1) Hang Some Sun Sails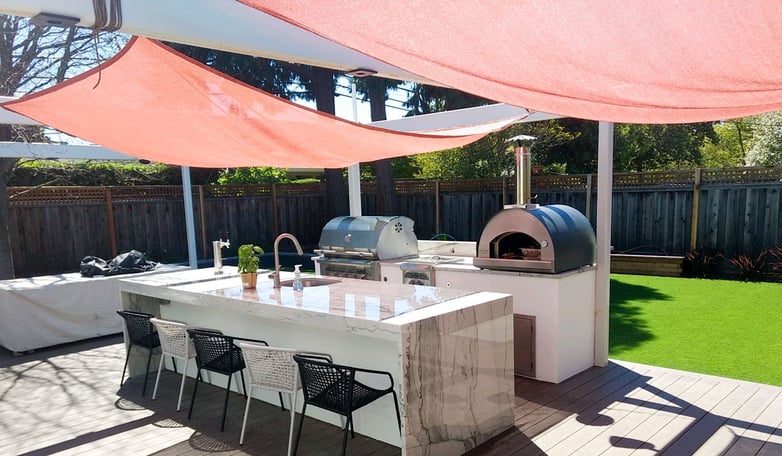 If you like the idea of having a more inexpensive way to get shade, while still looking elegant, sun sails may be for you. They are the perfect alternative for an outdoor kitchen pergola. Sun sails are typically a light fabric sheet that can stretch and hang from one end of your outdoor kitchen setup to the other side.
Integrating sun sails into your outdoor kitchen setup presents a compelling solution to combat the intense sun, providing essential shade that allows you to comfortably enjoy your outdoor space while protecting against harmful UV rays. These versatile and stylish fabric structures not only enhance the visual appeal of your setup but also create a cooler, more inviting atmosphere, allowing for extended hours of relaxation and outdoor dining without the worry of sun exposure.
Pros:
It's a relatively inexpensive way compared to any other method to get proper shade
Colorful sails can add a fun atmosphere to your outdoor kitchen setup
Provides full cover from the sun under it
Cons:
They are not suited to handle strong storms
If you don't get a UV resistant fabric, the colors can fade over time
Are more likely to experience some mildew issues if not washed often
Get Shady >> 3 Wonderful Benefits of Having a Pergola in Your Backyard
5. (Alt #2) Go Big with a Pavilion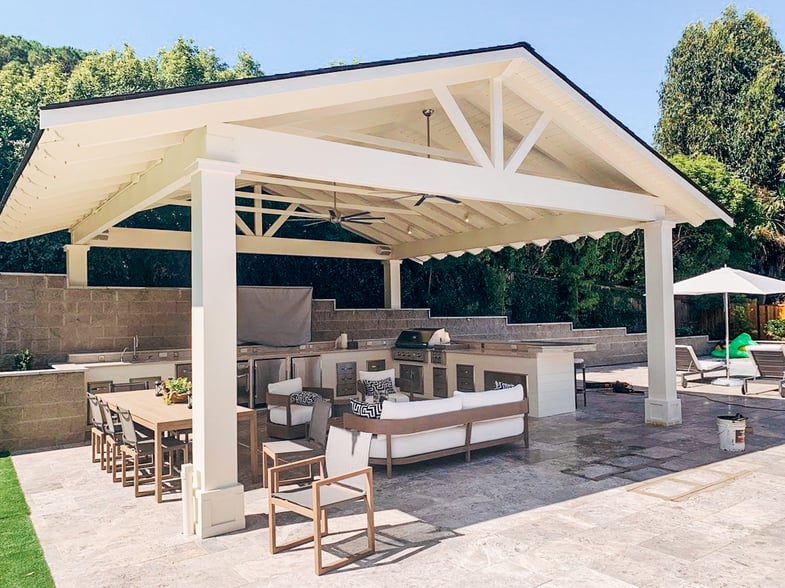 If you want to really up your backyard game, a pavilion may be the right build for you. Elevate your outdoor living experience with a pavilion that brings together both style and functionality. Imagine having a versatile space that adapts to your every need – from hosting gatherings to offering a serene sanctuary.
A pavilion provides a reliable shelter, ensuring you can enjoy the outdoors rain or shine. Its seamless integration with your home blurs the lines between indoor and outdoor living, offering a comfortable extension that's perfect for relaxation and entertainment alike.
Beyond its practicality, a pavilion is an architectural masterpiece that enhances your backyard's aesthetic appeal, adding a touch of elegance and value to your property. With the creative freedom to personalize its design, your pavilion becomes a canvas for expressing your unique style, whether that's classic charm or modern sophistication.
Pros:
Provides cover from the sun and weather
Typically much more sturdy than a pergola
Can increase the property value
Can fully protect your outdoor kitchen from the elements
Cons:
One of the more expensive options for adding a dedicated build to your backyard
Tends to take up a lot more room in the yard
Shade is important for your outdoor kitchen, ensuring a comfortable and enjoyable culinary experience. By providing a break from the sun's rays, it keeps you from overheating and offers a cooler ambiance for cooking and dining. Ultimately, the presence of shade transforms the outdoor kitchen into a haven of relaxation, where we can savor moments with friends and family regardless of the weather.
Get some shade for your outdoor kitchen.
No matter how you want to design your space, we can help you.
We're here to design an outdoor paradise you and your guests will love. Want to add an outdoor kitchen? No matter how big or small, we can assist you! Give us a call at (650) 279-6506 or click the banner below. We'll visit your home and conduct a free consultation to get started. Let's get it started!